Barack Obama Black History Lego Mural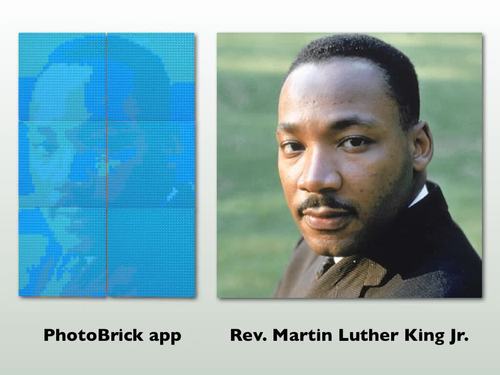 ;
1

st

- 12

th
,
Higher Education
,
Adult Education
,
Homeschool
Also included in
This bundled resource gives you 12 lego mural lesson guides and designs for creating a Black History Lego Mural.See my blog post for inspiration. As a bonus, I've included a pdf presentation about how to set up a lego mural.This is a great way to reinforce cooperative learning, introduce history bio

Price $40.00

Original Price $48.00

Save $8.00
Description
This collaborative lego mural of Barack Obama is designed to teach students to work collaboratively, create art with new media, and use the grid of a 32 brick by 32 brick plate to match a design printed out showing a 32 x 32 brick design (1:1 ratio-no scaling needed).
The lesson is a 16 page PDF including directions, photo examples, and the design guide for you to print (eight color pages). Materials Needed: blue, yellow, red, green, and white (you can switch out colors if needed) basic legos of all sizes, Six 10"x10" lego base plates, printed color Barack Obama lego sheets.
The final mural is 20" wide by 30" tall. It can be mounted with adhesive velcro to illustration board and displayed on an easel or mounted to a bulletin board using T-pins.
Hint: Share a biography on the pioneering role of Barack Obama as our first black president with students as they work on completing the mural.
See also my Marilyn Monroe Pop Art Lego Designs
or my Mona Lisa Whole Body Listening Lego Lesson
See also these Black History Lego Mural resources:
You can also purchase all 12 Black History Lego Murals
in ONE BUNDLE HERE for a discount
or search here for any more recently added
Explore my other Transdigital Lessons here.
Need a way to advocate for iPads for your teaching space?
Share my Creating on iPads page with your administration.
Explore all my FUGLEFUN STEAM ART, SEL, and LEGO lessons and GAMES in this convenient index: bit.ly/fuglefunstoreindex
Teaching Duration
3 hours
Report this resource to TPT
Standards
to see state-specific standards (only available in the US).
Participate in collaborative conversations with diverse partners about grade 2 topics and texts with peers and adults in small and larger groups.
Make sense of problems and persevere in solving them. Mathematically proficient students start by explaining to themselves the meaning of a problem and looking for entry points to its solution. They analyze givens, constraints, relationships, and goals. They make conjectures about the form and meaning of the solution and plan a solution pathway rather than simply jumping into a solution attempt. They consider analogous problems, and try special cases and simpler forms of the original problem in order to gain insight into its solution. They monitor and evaluate their progress and change course if necessary. Older students might, depending on the context of the problem, transform algebraic expressions or change the viewing window on their graphing calculator to get the information they need. Mathematically proficient students can explain correspondences between equations, verbal descriptions, tables, and graphs or draw diagrams of important features and relationships, graph data, and search for regularity or trends. Younger students might rely on using concrete objects or pictures to help conceptualize and solve a problem. Mathematically proficient students check their answers to problems using a different method, and they continually ask themselves, "Does this make sense?" They can understand the approaches of others to solving complex problems and identify correspondences between different approaches.