Basic Area and Perimeter Pumpkin Growing Contest Craft for Fall and Thanksgiving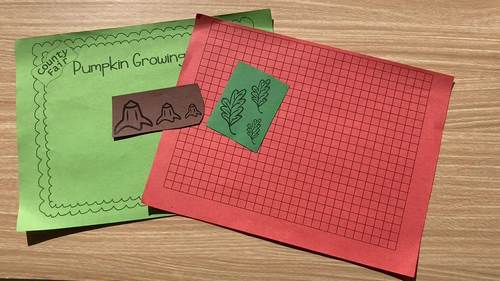 ;
Description
This fun area and perimeter pumpkin craft is perfect for a 3rd or 4th grade fall area and perimeter unit or Halloween math review! Students cut out three different sized pumpkins from grid paper and find the area and perimeter of each, recording them on 1st, 2nd, and 3rd place ribbons. Then, they add stems, leaves, and vines.
This resource includes:
teacher directions
simple written directions for students
student directions with photos (great accommodation for English Language Learners or students with learning disabilities)
all materials needed to complete the project
a scoring rubric
a finished example
Pumpkins not in season? Check out the "Watermelon Growing Contest" here!
This activity is also included in an 8 day print and go area and perimeter unit for 4th grade available here!
Please follow my store here for more great resources!
You can also find me on Facebook, Instagram, and lafountaineofknowledge.com where you'll discover ideas, inspiration, and plenty of freebies! Or join my email list to get my monthly newsletter with exclusive FREE resources you can't get anywhere else!
Want free money to spend on Teachers Pay Teachers? Rate this product to earn some TpT credit! Leaving feedback helps us both out and takes less than a minute! Your support makes it possible for me to continue making and sharing great resources! Thank you!
Credits: The border was created by and used with permission. The stem and vine clip art were created by and used with permission. The leaf clip art was created by and used with permission. Fonts used include: Pangolin by Kevin Burke, Amatic SC by Vernon Adams, Londrina Solid and Londrina Sketch by Marcelo Magalhães, and Chelsea Market by Tart Workshop, and  All fonts used with permission under open source licenses. The preview video features the music Merry Go Slower by which is licensed under a Creative Commons Attribution 4.0 license. found at .
Report this resource to TPT
Standards
to see state-specific standards (only available in the US).
Recognize area as an attribute of plane figures and understand concepts of area measurement.
Measure areas by counting unit squares (square cm, square m, square in, square ft, and improvised units).
Find the area of a rectangle with whole-number side lengths by tiling it, and show that the area is the same as would be found by multiplying the side lengths.
Solve real world and mathematical problems involving perimeters of polygons, including finding the perimeter given the side lengths, finding an unknown side length, and exhibiting rectangles with the same perimeter and different areas or with the same area and different perimeters.
Apply the area and perimeter formulas for rectangles in real world and mathematical problems. For example, find the width of a rectangular room given the area of the flooring and the length, by viewing the area formula as a multiplication equation with an unknown factor.