Be a Bucket Filler | Bucket Filling Activities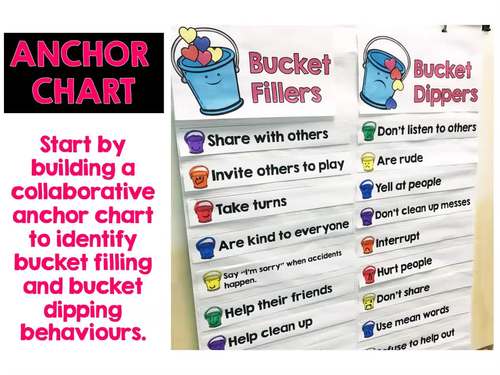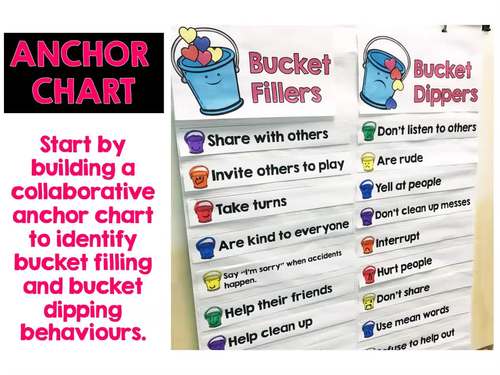 Created By
Hanging Around in Primary
Also included in:
Get ready for Back to School with this collection of Teaching Resources perfectly suited to get you ready for the Back to School season. Comprehension questions, character education, classroom management, name tags and so much more! This collection of resources is perfect for Kindergarten - Thi
Product Description
Character education needs to be explicitly taught. Teach your students about the importance of Kindness and how to be a Bucket Filler using this Bucket Filling resource. This pack includes everything you need to complete your bucket filler display as well as lessons, bucket notes and a booklet.
This pack includes the following:
⭐4 Detailed lesson plans that will guide you through introducing and implementing Bucket Filling in your classroom
⭐Pieces to create an anchor chart with your students where they help sort bucket filling and bucket dipping behaviors.
⭐I Can Fill a Bucket activity sheet (2 per page)
⭐A Bucket Filler Booklet – copy back to back to create a 4-page booklet.
⭐EDITABLE Labels for your buckets – 2 colorful bucket options, 2 B&W bucket options
⭐Several variations of signs to put with your display, including ones that match my
Bundled Rainbow Décor Pack and Bundled Chevron Décor Pack
This package is perfect for the primary classroom where you want to keep bucket filling super simple. Students will simply write their name on a bucket note slip and put it in their friend's pocket. This takes the onus off the teacher to write a note for those that can't or the problem with finding time to have kids write the notes. (I have also included a note that students can write about the good deed if you would rather the option of having your students write a more detailed note.)
Are you looking for other ways to encourage your students? If so then check out this great freebie and paid product:
Hall Stars - A Behavior Management System
------------------------------------------------------------------------------------------------------
Don't Miss Out:
Leave feedback on this item to earn credit toward future TpT purchases! Be the first to know about my new products and freebies! Look for the green star near my store name and click it to become a follower. You will receive customized email updates about my store!
Connect with me via social media and my blog to see how I use my products in my own classroom!
Hanging Around in Primary on Facebook
Teaching Duration
Lifelong tool
Report this Resource to TpT