Bee, Bear, and Cloud Themed Concert and Classroom Songs for Orff and More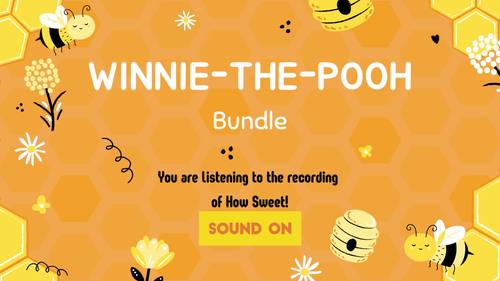 ;
Products in this Bundle (3)
Description
This diverse bundle includes Orff arrangements and canons, ukulele and recorder options, and a 12-bar blues arrangement with a Rock & Roll feel ALL using text from Winnie-the-Pooh V.1 with lots of bears, bees, clouds, and honey.
In both PowerPoint AND Google Slides versions, each presentation includes a single mp3 of the song arrangement and then multiple slides using Kodaly and/or Orff for you to teach rhythm, melody, and harmony components.
If Bears Were Bees: includes an Orff arrangement and parts for ukulele, recorder (Boomwhackers), and even a fun circle game to play. TEXT: "It's a very funny thought that if bears were bees they'd build their nests at the bottom of trees..."
Buzz! Buzz! Buzz!: an instrumental xylophone melody, Orff arrangement, and canon learning through movement, rhythm, and melody. TEXT: "Isn't it funny how a bear loves honey? Buzz, buzz, buzz! I wonder why he does."
How Sweet!: 12-bar Blues Song With a Rock & Roll instrumental mp3, Ukulele Parts, Kodaly Rhythm Melody Breakdown. TEXT: "How great to be a cloud, floating in the blue. Every little cloud loves to sing aloud. If you walk up and down with your umbrella out singing..."
Report this resource to TPT