Beginning Sounds Mini Books for Preschool and Kindergarten | Take Home Phonics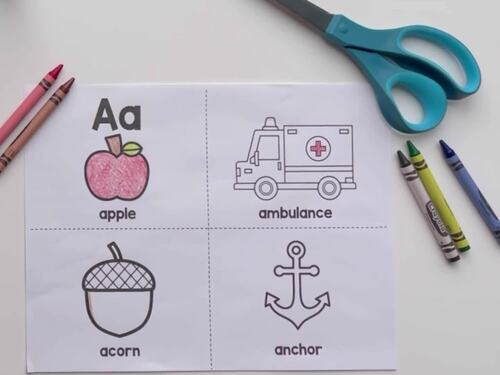 ;
Description
No prep! Print and go beginning sounds mini coloring books for preschool and kindergarten.
Use these in many different ways!
Morning work or table time activity
Send home for families to work on and read together
Students practice "reading" their book
Use as a quick fine-motor assessment: which hand do they use?, what grip do they use?, what prewriting stage are they in?, how are their cutting skills?
Build phonics and phonemic awareness in your classroom
Cut apart and use as a word wall or letter sort
Each book has a cover page with the upper and lowercase letter along with 4 images of words that begin with that sound.
A: apple, anchor, ambulance, acorn
B: backpack, bear, banana, bee
C: cupcake, carrot, cat, crayon
D: doughnut, dinosaur, dog, dolphin
E: egg, elephant, eggplant, envelope
F: fish, football, frog, flower
G: glue, gumball machine, guitar, grapes
H: heart, hat, hammer, hand
I: igloo, ink, inchworm, iguana
J: jellyfish, juice, jacket, jam
K: kangaroo, kite, key, ketchup
L: lion, leaf, lollipop, lock
M: moon, mittens, mushroom, mailbox
N: nose, necklace, narwhal, nest
O: octopus, onion, olive, otter
P: pizza, pretzel, panda, pencil
Q: queen, quilt, question mark, quail
R: robot, ring, rainbow, rocket ship
S: star,, scissors, socks, spoon
T: turtle, toothpaste, tiger, tent
U: umbrella, umpire, upside-down, unicycle
V: violin, van, vest, vacuum,
W: watermelon, whale, watch, web
X: x-ray fish, xylophone, xylophone stick, x-ray
Y: yak, yarn, yo-yo, yogurt
Z: zebra, zero, zipper, zucchini
Report this resource to TPT