Behavior Data Sheets - Editable Behavior Tracker MegaPack for Special Ed & RTI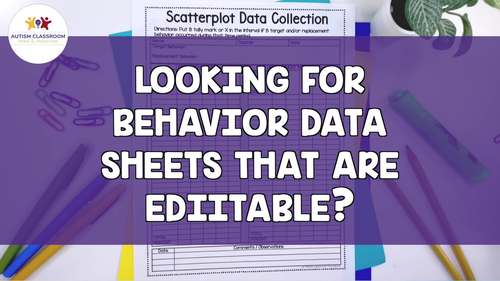 ;
What educators are saying
great resource and lots of different data sheets. I love that they have graphs and will be easy for the parents to see progress.
These are exactly what I was looking for. I thought I was doomed to create them myself, thank you for giving me my time back!
Also included in
Are you looking to set up your special education classroom, but don't know where to start? This comprehensive bundle includes everything you will need to set up a self-contained classroom. These special education classroom setup resources include schedules, planning tools, behavioral tools and much

Price $98.60

Original Price $123.25

Save $24.65

This special education classroom setup kit is like a classroom in a bundle! It has everything you need to set up the structure of the classroom except the students, the printer and the laminator. Setup your special education classroom and plan everything for your year with this comprehensive bundle.

Price $98.60

Original Price $123.25

Save $24.65
Description
This huge set of behavior data sheets are designed for easy use to assess and monitor problem behavior in your classroom. More than 35 behavior tracker sheets included. Each of the data sheets is editable within PowerPoint and you can see what is editable and how to edit these behavior tracking sheets in this video.
This behavior tracking sheet mega pack includes:
→ Behavior Tracker Scatterplots
With and without replacement / appropriate behavior tracking
In 10 and 15 minute segments
Across activities (instead of time)
Blank times and activities sheets you can edit in PowerPoint
→ Interval Behavior Data Sheets
In 10 and 15 minute intervals
Blank times or activities column you can edit in PowerPoint
→ Interval & Severity Ratings
→5 Versions Interval Tracking & Intensity Ratings
With and without times
With and without set rating points
→ Behavior Rating Scales (Self-Graphing)
2 track frequency and rate intensity
2 track just intensity
5 versions can be used to track 5-point scale ratings or anxiety ratings
2 allow ratings of overall behavior and presence of meltdown
→ ABC Behavior Data Sheets
1 Journal ABC Form with Setting Events
4 pre-designed check-off ABC Forms
3 editable sheets for journal or check-off
3 versions of ABC cards that can be printed as 3x5 or 5x7 index cards
Check this video for how the behavior tracking sheets can be edited.
⭐⭐If you are a member of the Special Educator Academy, these are included in your subscription in the Taming the Data Monster Course.⭐⭐
© Christine Reeve
This product is copyrighted to Autism Classroom Resources-Christine Reeve for use in one classroom. They may not be copied for additional classes without purchasing
extra licenses.
Teaching Duration
Lifelong tool
Report this resource to TPT