Behavior Reflection Think Sheets for Classroom Management & Restorative Practice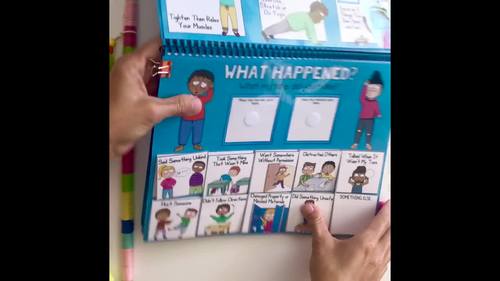 ;
Zip

Google Apps™
Includes Google Apps™
The Teacher-Author indicated this resource includes assets from Google Workspace (e.g. docs, slides, etc.).
What educators are saying
Today I tried this resource with one of my students that displays a very challenging behavior. It is amazing how he could communicate with me using these visuals. It had a great impact on him
These are the best reflection sheets I've used as a teacher. They really help students be reflective of their actions and what they can do next time.
Also included in
Save tons of planning time and get your students excited about social emotional learning with WholeHearted's Storewide Growing Bundle! Grab over 140 effective and fun counseling and SEL activities and lessons at 50% off. And help your students to build healthy social emotional skills, such as self

Price $279.00

Original Price $548.00

Save $269.00

The Calm Classroom Bundle provides a great foundation to create a trauma sensitive classroom integrated with social emotional learning. Focusing on prevention and emotion regulation, the calming activities in this bundle can help with classroom management. Works for small groups, individual counse

Price $31.25

Original Price $55.25

Save $24.00

Price $55.00

Original Price $101.50

Save $46.50

Price $30.87

Original Price $61.73

Save $30.86
Description
These Restorative Behavior Reflection Repair Plans will be a game changer for your classroom management! Use with students who have broken a rule or expectation to reflect on what they've done, voice their unmet needs, consider others who have been impacted, come up with more helpful choices, and make amends to those who have been harmed.
Your students will LOVE the the detailed visual supports, helping them to better communicate their needs, thoughts, and plans to deal with their mistakes. Making it a perfect behavior management tool for your trauma sensitive classroom.
⭐️
Used by Over 8,500 Teachers, Counselors Behavior Interventionists & Families!
What Makes These "Think Sheets" Unique?
These think sheets avoid a shame-based narrative (i.e. the notion that the student "is bad"). Rather, they focus on how the student made a "bad" choice, but is not a "bad" person. By focusing on the behavior, and not on the person, it helps students learn from their mistakes, to take responsibility and accountability for the choices they made, to identify the skills that can be worked on, and to repair relationships.
---
What's Included:
10 question or 6 question Repair Plan forms (in printable PDF and digital Google Slides™ formats)
5 different formats for differentiated instruction
Interactive Choice Board
Google Slides™ Mini-Lesson called "Making Mistakes, Making Repairs," which touches on the importance of making repairs when a mistake hurts someone, in addition to teaching students how to use the Repair Plan forms.
Reminder Visual Cue Cards
2 Apology Letter Templates (full and 1/2 page) (Note: pages similar to those found in WholeHearted's Calm Corner Kit)
I-Statement Form and I Need form (full and 1/2 page) (Note: pages similar to those found in WholeHearted's Calm Corner Kit)
Posters: "Get Calm First," "Making An Apology," and "Use Words to Say How You FEEL and What You WANT"
Binder Cover and Binder Spine Labels
Color and black/white printing options
Ways to Use
In your classroom as part of your behavior management toolbox
During conflict resolution or peer mediation meetings
In school calm rooms to help students de-escalate
During recess, as a tool to help students solve problems
At home, to help your children learn from their mistakes
Here's What Teachers, School Counselors & Parents Are Saying:
My students have loved using this resource after they have 'made a mistake'. It is a very easy-to-use resource that the students can engage with independently while I teach the rest of the class instead of having to take the time to talk through issues with them. It has changed the way our classroom runs..."-Erin
"I love this product. My students with diagnosed Emotional Disabilities are able to look at their choices and hold themselves responsible for them. I don't have to do any of the talking or holding them responsible. With this book student who I have never been able to get to go back and talk about a situation have come up with solutions to make repair with other students and teachers AND FOLLOWED THROUGH with the plan. I would gladly pay $50.00 for this resource." -Abby
"I have gone through so many reflection sheets and always struggled with the ones I had. This resource is AMAZING! The differentiation and variety is outstanding. I love that I will be able to use this regardless of my students abilities and the grades I teach. The language, visuals and use of restorative justice language wins my heart." -Winnie
"I love this resource. From the Think About sheets that can be used for students who are able to write how they feel to those who need the pictures to help lead them to discussions this resource has been amazing. I love the apology and I statement notes. I have recommended this resource to other school counselors as a great resource to use with students." -Building Strong Minds
My son has autism and we have started using these resources. I cannot praise them enough! They are perfect! The pictures, the tactile activities, the range of feelings and problem solving...I could go on and on. This such an amazing resource to use with him, I know I will be coming back again and again! -Jenna
What Other Counseling or SEL Resources Do You Recommend to Help My Students or Children With Making Positive Behavior Choices and/or Resolving Conflict Peacefully?
What ASCA Mindsets & Behaviors Standards Does Behavior Reflection Repair Plans Cover?
M 1. Belief in development of whole self, including a healthy balance of mental, social/emotional and physical well-being
B-SMS 7. Effective coping skills
B-SMS 2. Self-discipline and self-control
B-SMS 1. Responsibility for self and actions
B-SS 5. Ethical decision-making and social responsibility
___________________________________
Learn about sales, freebies & new resources (that are always 50% off the first 48 hours!):
___________________________________
Earn TPT credit to Use on Future Purchases:
Visit your My Purchases page.
Click on the Provide Feedback button for any Paid Resources.
Leave a short comment and rating.
___________________________________
Need Help With Your Files?
Visit the FAQs section
Contact TpT Tech Support and submit a help ticket
Ask WholeHearted School Counseling™ a question via the Q& A tab
___________________________________
Terms of Use
This resource was created by WholeHearted School Counseling™, all rights reserved. When you purchase a license, it may be used for your personal single classroom, counseling office, or home use only. If you would like to share this product with other teachers, counselors, staff, or administration, please either refer them to WholeHearted School Counseling's™ store or purchase an additional license for each adult use. You can read more details about copyright and terms of use here.
Thank you for respecting the Copyright and Terms of Use boundaries.
Report this resource to TPT