Bible Themed Busy Book Activities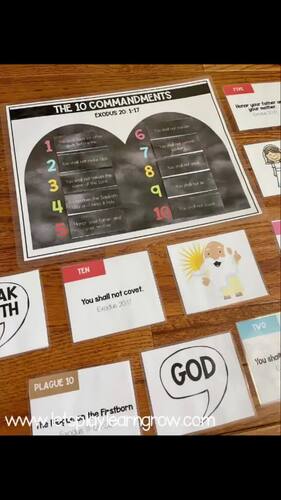 ;
What educators are saying
I love using this with my son! He is engaged, and it is the perfect resource to reinforce what he is learning at church and home each week.
I loved using this with my girls. If I needed to work one on one with one of them the other could do one of these independent activities alone!
Description
This Bible Themed activity binder set will keep early learners busy and engaged with so many fun hands on learning activities as they learn about important stories from the Bible. This Bible Busy Book features lessons for many familiar Bible stories like Creation, Daniel and the Lions Den, The Fruit of the Spirit, David & Goliath, Jonah, Noah and more. Use this as morning work in the home or early childhood classroom, take it along with you when you travel or go to a restaurant or doctors appointment, or use it as part of your homeschool, preschool, or kindergarten classroom curriculum.
The great thing about this binder is that you can easily differentiate the activities for children of all ages and can choose to use these activities in many different ways to meet the needs of all children and learning environments.
BIBLE BUSY BINDER ACTIVITY PAGES INCLUDE:
Books of the Bible (Old and New Testament)
7 Days of Creation
Fruit of the Spirit
Skip Counting by 2s with Noah
The Greatest Commandment Shadow Matching Memory Verse
John 3:16 Copywork
Daniel and the Lions Den Shape Matching
Adam and Eve Lies Vs. Truths Sort
Label the Nativity
Parting of the Red Sea Capital and Lowercase Letter Match
Jonah and the Whale Numbers 0-30 Dot to Dot
Feeding the 5000 Counting to 10 Practice
David and Goliath Tracing Page
Teach Us To Number Our Days Verse & Telling Time Activity
Joseph's Colorful Coat Color Matching
The Walls of Jericho Came Tumbling Down Rhyming
Armor of God Labeling (Boy and Girl Version)
The 10 Commandments
The Plagues of Egypt
Tithing: Money Amounts
It Is FInished Holy Week Sequencing
Jesus is the Way, Truth, & Life Puzzle
John 15:5 Verse Completion
I am Praying For 1 Thessalonians 5:16-18 Verse & Prayer Sheet (B/G Versions)

EXTRA LEARNING CARDS Use these to extend learning.
Books of the Bible
Days of Creation
Fruit of the Spirit
10 Commandments
Armor of God
Plagues of Egypt
CHECK OUT OUR ORIGINAL BUSY BINDER BUNDLE FOR MORE INTERACTIVE LEARNING ACTIVITIES
Looking for more themed busy binders for preschool and kindergarten? Check out some of the others in our shop:
★★Follow my shop by clicking the green star at the top of my shop to stay updated on new resources posted!!! All New resources are 50% off for the first 24 hours. ★★
LET'S CONNECT
★Blog
★Email (Receive access to my free printable library and exclusive deals and freebies.)
Report this resource to TPT