Big Buddy Little Buddy Activities | Learning Buddies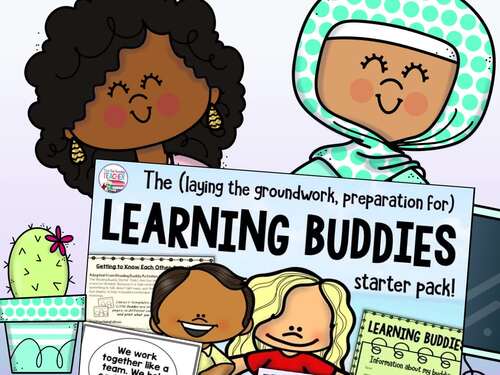 ;
What educators are saying
My K class loved participating in these activities with their Grade 7 buddies. I love that there was very little prep for me and my co-teacher to do ahead of time. Thank you!
It was nice not to have to create this myself. I picked and chose what I wanted to use. Great first meeting activity.
Description
The Learning Buddy Starter Pack contains activities for Big and Little Buddies, along with organizers for getting started! Inspired by the popularity of Reading Buddy Activities (formerly The Reading Buddy Starter Pack), this pack is great for Math Buddies, Tech Buddies, DPA / P.E. Buddies, etc.
Here is what is included so far:
What Learning Buddies Do, a full-color storybook lesson that can be used as posters to reinforce positive expectations for Learning Buddy time (plus a line art version for coloring)
Smartboard summary of storybook lesson and activities included in the pack
The Learning Buddy Code of Honor for Big Buddies
Conversation tips for Big Buddies
Blank Learning Buddy pair-up list (non-editable PDF)
Learning Buddies information sheet 
Tips for Big Buddies to help Little Buddies with technology
Tech tickets for usernames and passwords
Fun and simple Learning Buddies get-to-know you activity, with 5 versions of Melonheadz 'Create-a-Kid' line drawings (great for display, modeled after the one in the popular Reading Buddy Activities pack)
Learning Buddies notebook cover
Back-to-school classroom tour, school tour no-prep printables to facilitate discussion of important safety routines related to each space
Real-life shapes scavenger hunt no-prep printable
Measuring length with non-standard units no-prep printables
- NEW UPDATE!
Games for Buddies to make and play together! Open-ended materials to adapt to many learning goals.
2 game boards
Picture game pieces
Action cards
Dice tracers
"Happy Birthday Buddy" cards (tech, basketball themes) 
Post-Halloween treat data management activity (sorting, bar graph)
No-prep, printable, holiday-themed buddy cards (various winter holidays)
Valentine's Day symmetry activity with heart / snowperson
"Happy Valentine's Day" cards (Learning / Tech / DPA Buddy versions)
Read about The Benefits of a Reading Buddies Program here, and click here for Tips for starting a Reading Buddies (or Learning Buddies) Program in your classroom!
REVIEWS
⭐⭐⭐⭐⭐ "Perfect for us to help our students get to know their buddies in the other classroom!" -Shirlie Y.
⭐⭐⭐⭐⭐ "Great packet to use with kindergarten and grade 6 buddies! Thank you!" -Bree C. 
Thank you in advance, to those of you who generously take the time to leave feedback here. (And give yourself a little pat on the back, too - you will have just topped up your TpT credit balance!)
You Might Also Be Interested In:
☻☺ FREE Holiday Cards for Reading Buddies / Learning Buddies!
☻☺ FREE Printable Valentine Cards for our Reading Buddies
☻☺ FREE Thank you for being my Reading Buddy Card
⭐Best-sellers⭐
❤️ The #DWF EVERYTHING Bundle! BEST VALUE! (all #DWF TpT products continuously added here!)
❤️ Dealing With Feelings 1st 7 Storybook Lessons
➪ The Complete Personal Printable Alphabet Book Kit with over 200 Line Art Images!
☀ Kindergarten First Grade Alternative Reading Log
❤️ Kindness Storybook lessons, bulletin board
CUSTOMER TIPS
How to get TPT credit to use on future purchases:
• Log in and go to your My Purchases page. Click the "Provide Feedback" button, where you will be linked to the page to leave a rating and short comment for the product.
Be the first to know about my new products, discounts and freebies:
• Look for the green star near the top of any page within my store and click it to become a follower. You will then receive email updates about ThatFunReadingTeacher on TpT!
Pop by for a visit on:
Blog • Pinterest • Facebook • Instagram
Report this resource to TPT