Biology Curriculum Bundle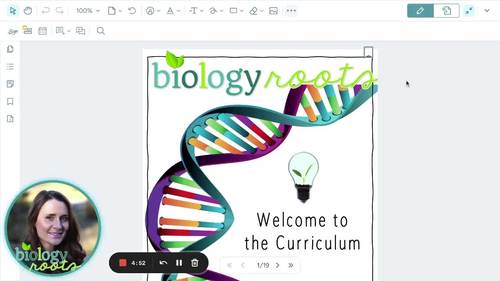 ;
Various file types

Google Apps™
Includes Google Apps™
This bundle contains one or more resources with Google apps (e.g. docs, slides, etc.).
What educators are saying
Loved this bundle. Helpful for me and my students loved the activities. thank you for all of your hard work to make my life easier!!
LOVE, LOVE, LOVE this. I feel like you just gifted me TIME! Thank you for the in-depth curriculum to use for years to come.
Products in this Bundle (25)
showing 1-5 of 25 products
Bonus
Welcome Letter, Coupon Code, Suggested Order, Product Update Link, Terms of Use
Description
A biology curriculum bundle that has everything you need to teach high school biology for the entire year. This year long biology curriculum bundle has models, task cards, labs, PowerPoints, study guides, projects, interactive notebook activities; everything you need to teach a year of high school biology.
Many items are editable to tailor to your needs. A suggested pacing guide is included for every topic as a guide to sequence the items in the bundle.
✓ Yes, this biology curriculum bundle does support NGSS and many other state standards.
✓ Yes, there are digital (paperless) options for nearly every resource in the year long biology curriculum.
✓ Yes, many items are editable.
✓ The interactive notebook is (not required.) The INB activities come with a pacing guide if you choose to use it. For those that choose not to incorporate the interactive notebook activities: the INB activities make great sub plans, especially the digital versions, so either way it is a win-win.
Any other questions? Just ask me in my Q&A or send me an email. I'm happy to help. Please see the preview for a more complete representation of the product.
There are 12 Complete Unit Plans plus 4 mini bundles for a total of 16 topics to get you through an entire (and fun!) year of biology. Many editable and differentiated resources are available.
This year long biology bundle covers the following topics:
✓ Homeostasis
✓ Biochemistry
✓ Cells
✓ Viruses (mini unit)
✓ Cell Transport
✓ Cell Division
✓ DNA & Protein Synthesis
✓ Biotechnology
✓ Mutations
✓ Genetics
✓ Photosynthesis
✓ Cellular Respiration
✓ Ecology
✓ Evolution
✓ Population Genetics (mini unit)
✓ Classification
The formation of my biology curriculum has been a journey that includes years of designing, fine-tuning, collaborations, researching, and FUN! 
Here are some things I did NOT want in my biology curriculum:
Heavy language that blocked students ability to absorb the material. 
Items that lacked visuals or were not aesthetically pleasing to the eye.
Materials that did not bring home the message. 
Outdated material that did not reach diverse learners.
Materials that were not relevant or engaging. 
Here's what I did want in my biology curriculum:
Activities that reach a wide variety of learners and provide differentiation. 
Resources that are designed for student comprehension. 
Materials  that offer adaptability so they can work in a wide variety of classrooms. 
Materials that are designed to be aesthetically pleasing (but not overwhelming to the eye). 
Engaging and effective resources. 
Who is this biology curriculum for?
New Teachers that have limited resources and want a dependable curriculum to help their students.
Veteran teachers looking to freshen up their curriculum with new ideas and resources. 
Any teacher that has been assigned to teach biology and does not want to reinvent the wheel. 
Any teacher who wants to provide their students with high quality resources that are designed for student comprehension.
Students!
What can you expect?
  Here are some types of items that are included in the curriculum and bundles:
Labs
Models
Interactive Notebook Option
Science Literacy
Engaging classwork
Task cards that can be used as bellringers, exit tickets, small group work or review. 
Study Guides and other review material such as games ("trashketball"; I have Who Has, Jeopardy)
Homework
Assessment
Each unit plan comes with its own editable planner and optional binder cover to help keep you organized.
Editable resources and adaptability? Yes! Some of the resources are PowerPoints or MS Word docs. 
I always offer editable materials when I can. 
Why Biology Roots Curriculum?
Supports differentiation.
You can easily integrate other materials in case you have some all time favs you've already established.
The curriculum and bundles are completely self-contained. No text book necessary, but one could be used to supplement the curriculum depending on your preferences.  
Offers a wide variety of activities. 
Designed for student comprehension. 
The curriculum is often updated to reflect new standards or ideas.
What other teachers are saying:
"I loved the first unit so much, I purchased the Year's Bundle! Peace of mind & extra time to enjoy my home life / sleep is worth any price. Thanks, Biology Roots! My kids love it. I love it. My administrators have been impressed during multiple observations. Life is good". - Katherine R. 
"Wow! I have been teaching for a number of years and this is an incredible resource. I will use all of the units to supplement what I currently use in my classroom. Thank you for so many creative and innovative ideas. I plan on using many of the worksheets for bellringers and exit activities. Thank you!" - Anonymous 
Aligned to or supports multiple standards including NGSS and TEKS. Read more here.
The following bundles are included in the year long biology bundle:
1. Biochemistry Activity Package
2. Cells Bundle
5. Cell Cycle Bundle- Mitosis and Meiosis
6. DNA bundle (includes mutations)
12. Cellular Respiration Bundle
13. Ecology Bundle
14. Population Genetics Mini Bundle
15. Biology Interactive Notebook Bundle
Each unit is individually tailored and contain many labs, hands-on activities, and models, as well as many differentiated and editable resources.
Optional Interactive Notebook Activities are offered in the biology curriculum for the following topics:
✓ Cells
✓ Cell Division
✓ Cell Transport
✓ DNA
✓ Photosynthesis
✓ Ecology
✓ Evolution
✓ Classification
*Also included* are editable unit planners for each unit to use as a sequence guide- as well as some nice binder covers to help organize your new fabulous curriculum!*
There are 11 complete biology units plus 3 supplemental mini units that will last you the entire year of biology. Please look at the preview to get a peek at what this year long biology curriculum bundle contains.
☆☆Follow me on☆☆
Terms of Use:
Vanessa Jason Biology Roots
For single classroom only; not to be shared publicly (do not create publicly accessible links).
Copying for more than one teacher, classroom, department, school, or district is prohibited. Failure to comply is a violation of the DMCA (Digital Millennium Copyright Act).
Teaching Duration
Lifelong tool
Report this resource to TPT
Standards
to see state-specific standards (only available in the US).
Use a model to illustrate how photosynthesis transforms light energy into stored chemical energy. Emphasis is on illustrating inputs and outputs of matter and the transfer and transformation of energy in photosynthesis by plants and other photosynthesizing organisms. Examples of models could include diagrams, chemical equations, and conceptual models. Assessment does not include specific biochemical steps.
Construct and revise an explanation based on evidence for the cycling of matter and flow of energy in aerobic and anaerobic conditions. Emphasis is on conceptual understanding of the role of aerobic and anaerobic respiration in different environments. Assessment does not include the specific chemical processes of either aerobic or anaerobic respiration.
Design, evaluate, and refine a solution for reducing the impacts of human activities on the environment and biodiversity. Examples of human activities can include urbanization, building dams, and dissemination of invasive species.
Apply concepts of statistics and probability to explain the variation and distribution of expressed traits in a population. Emphasis is on the use of mathematics to describe the probability of traits as it relates to genetic and environmental factors in the expression of traits. Assessment does not include Hardy-Weinberg calculations.
Ask questions to clarify relationships about the role of DNA and chromosomes in coding the instructions for characteristic traits passed from parents to offspring. Assessment does not include the phases of meiosis or the biochemical mechanism of specific steps in the process.