Biology EOC End of Course Review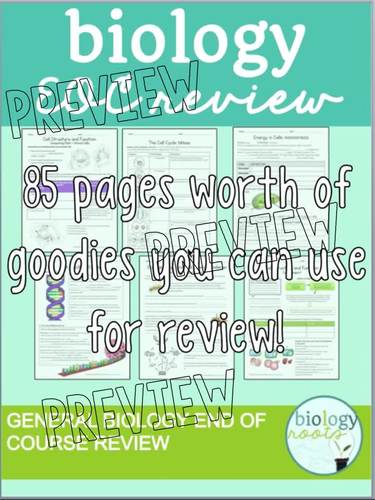 ;
Description
This is a neatly organized folder of biology end of course review pages for the following topics. Each topic includes 1-3 organized pages of essential information needed to help your students with a biology EOC review, be it a final, midterm, or state test.
Biology Midterm Review
Biology Final Review
Biology State testing Review
Biology Homework pages
.... and more!
BIOCHEMISTRY
Types of macromolecules,
Structure and Functions of macromolecules;
Enzyme structure and function,
Enzymes as catalysts
CELL STRUCTURE and FUNCTION
-Eukaryotic Cells
-Prokaryotic Cells
-Plant vs. Animal Cells
-Stem Cells and Cell Differentiation
CELL CYCLE
-Eukaryotic Cell Cycle and DNA Replication
- Mitosis
-Cancer
-Meiosis
DNA
-DNA Function
-DNA Structure and Discovery
-Protein Synthesis
-Gene Mutations
-Gene Regulation
GENETICS
-Monohybrid Crosses
-Dihybrid Crosses
-Complex inheritance Patterns
-Pedigrees
BIOTECHNOLOGY
-Gel Electrophoresis
-Plasmid Transformation
EVOLUTION
-Natural Selection
-Mechanisms of Natural Selection
-Adaptations
-Genetic variation
-Biogeography evidence
-Homologous structures, biochemical evidence, embryonic evidence
-Fossil evidence (pace of evolution)
-Hardy Weinberg
CLASSIFICATION
-Taxonomy and Organization
-Domains and Kingdoms
-Cladograms and Trees
ENERGY in CELLS
-Photosynthesis
-Cellular Respiration
-Comparing photosynthesis and cellular respiration
(carbon exchange in both, relationship to each other, stomata in plants and rate of photosynthesis)
ECOLOGY
-Ecological Systems and Succession
-Biogeochemical Cycles
-Energy Flow
-Ecological Relationships (Symbiosis) and Interdependence
-Adaptations in Ecosystems
-Human Impact
-Ecosystem Services
LIVING SYSTEMS
3 page review on connections among body systems and homeostasis among body systems
PLANTS
-Plant response
-Plant reproduction parts
-Plant Transport
VIRUSES
-Characteristics
-Replication
Vanessa Jason Biology Roots
For single classroom only; not to be shared publicly (do not create publicly accessible links).
Copying for more than one teacher, classroom, department, school, or district is prohibited. Failure to comply is a violation of the DMCA (Digital Millennium Copyright Act).
☆☆Follow me on☆☆
Teaching Duration
Lifelong tool
Report this resource to TPT