Biology Interactive Diagrams All Year for Google Slides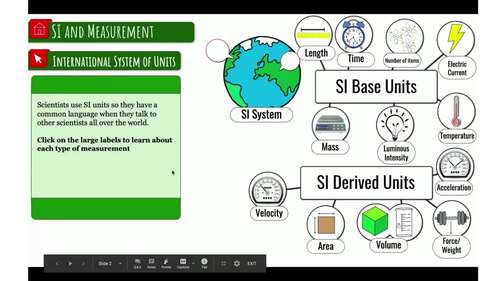 ;
Zip

Google Apps™
Includes Google Apps™
The Teacher-Author indicated this resource includes assets from Google Workspace (e.g. docs, slides, etc.).
What educators are saying
Excellent, a lovely companion to the doodle notes. Worked well for my ecology unit this year! I look forward to using it all next year!
AMAZING Resource! So helpful for distance learning! Students can complete right along side their guided notes! LOVE LOVE LOVE!
Also included in
This bundle is a HUGE collection of resources (ALL homework pages, activity sheets, project descriptions, useful illustrations, literacy resources) for biology teachers. The bundle includes all current and all future resources that I create for biology.Please note that this giant bundle is not incl

Price $699.00

Original Price $1192.93

Save $493.93

This Super-Bundle contains my Biology Doodle Diagram Notes Bundle ANDmy Biology Interactive Diagrams For the Year Bundle!If you already own one of the two bundles and would like to upgrade to this super bundle, you can do the following steps:1. Purchase this new bundle.2. Contact TPT Support (the li

Price $299.00

Original Price $470.00

Save $171.00
Description
This year long bundle is terrific for science teachers teaching their students in a distance learning or blended learning environment. These click-and-learn diagrams are Google Slides files designed to be used in several possible ways.
* First, the teacher can use them to click and reveal different parts of the lesson as they teach on their own teaching video, which is ideal for flipped classrooms and other blended learning model classrooms.
* Second, the teacher could provide a student with their own copy of these interactive diagrams so that students can click and read and learn as they go!
These click-and-learn diagrams are designed to my Doodle Diagram Notes. You can purchase these interactive click-and-learn diagrams along with the doodle diagram notes for a year by going to the bundle here.
Included in this bundle:
1. Chemistry Review for Biology Students
3. Protein Pathway (Endomembrane System)
4. Photosynthesis and Cellular Respiration
1. Chromosomes and Chromosome Structure
7. Additional Mitosis Concepts
1. Population Genetics and Fitness
2. Mechanisms of Evolution Chart
3. Genetic Drift and Nonrandom Mating
4. Mutations, Natural Selection, and More
8. Adaptation and Comparative Anatomy
3. Community Relationships Part 1 (Predation, Mimicry, Mutualism)
4. Community Relationships Part 2 (Commensalism, Competition, Parasitism)
5. Genetic Engineering (including CRISPR)
FAQ:
1. Are these appropriate for Middle School Life Science?
They may be adapted for middle school course, especially some of the earlier units! Please check out previews of individual sets to see if they would be appropriate for your class.
2. Are these editable?
Yes! The images are NOT editable but the content text is editable. You can change the text in regular mode or Masterview mode in Google Slides.
3. Will these work in Powerpoint?
Yes! You will need to download as a Powerpoint within Google Slides on your Google Drive and then you will be able to save it as a Powerpoint.
Would you like homework pages to help your students review what they've learned in class? 
Check out my Biology Homework Pages here.
Contact Us
If you have any questions or concerns, please reach out to us on the question and answer section of my store and we will get back to you quickly!
Terms of Use:
Purchasing my teaching resources allows you to:
* make copies for your .
* place this file on your (Blackboard, Google Drive, etc) AS LONG AS no other teacher has access to that class webpage. This resource is for you, the purchaser, alone.
You are not allowed to distribute this digital resource to other teachers or post this resource on any webpage or server that is available for public view. If you and a team of teachers would like to use this resource together, please purchase additional licenses on the resource purchase page.
Failure to comply with these terms of use is a copyright infringement and a violation of the Digital Millennium Copyright Act (DMCA). Clipart and elements found in this PDF are copyrighted and cannot be extracted and used outside of this file without permission or license.
Files non-editable to protect the images that are copyrighted and purchased through licenses. Thanks for understanding!
© Bethany Lau 
All Rights Reserved.
Report this resource to TPT