Black History Month Song & Music Activities | Spotlight on Martin Luther King Jr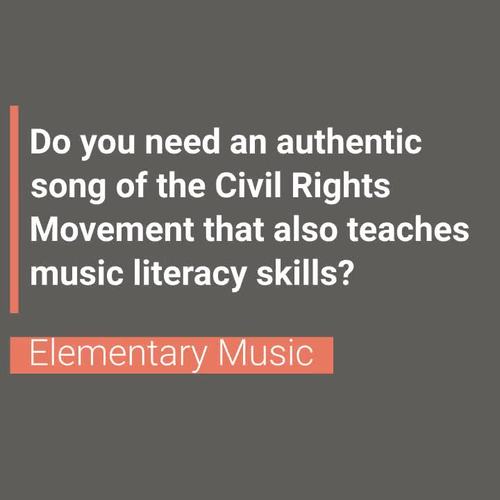 ;
Zip

Google Apps™
Includes Percussion Ensemble Score, Piano/Vocal Score, Presentation, MP3 Rehearsal Track
Includes Google Apps™
The Teacher-Author indicated this resource includes assets from Google Workspace (e.g. docs, slides, etc.).
Also included in
Are you looking for Black History Month songs with differentiated Orff accompaniments for grades K-5? These authentic civil rights songs are perfect for ANY TIME OF YEAR. Engaging performance activities for grades K-5 and differentiated biographies of civil rights leaders make these resources valua

Price $11.40

Original Price $17.85

Save $6.45
Description
Do you need an engaging Black History Month Song with differentiated Orff activities for grades K-5? Oh, Freedom is a traditional spiritual and authentic civil rights song that is perfect for your classroom or a performance ANY TIME OF YEAR. Differentiated activities will have students actively engaged singing, playing, reading pitch, rhythm, treble clef note names, and more.
Save over 20% when you invest in the NO-PREP BUNDLE.
Projectable lesson - PowerPoint version
Simple directions for uploading as Google Slides version
Two rhythmic ostinato patterns
Two melodic ostinato patterns
Two leveled biographies of Martin Luther King, Jr.
Rehearsal mp3 audio file
Orff accompaniments of varying difficulty are provided.
Melodic ostinato patterns are notated with and without note name prompts.*
Each differentiated resource provides attainable performance options for young students while challenging older students.
See the PREVIEW for a chart outlining the music elements taught at each level.
*Slides may be printed for individual students needing additional support.
Student Learning Outcomes
Simple observational assessment options with rubric
Learning Targets written as clear concise student-centered "I can" statements
Suggested performance options for each level
Large easy-to-read music notation
Two rhythmic ostinato patterns
Two melodic ostinato patterns
Percussion ensemble scores
Rehearsal MP3 audio file
Introduction to ties and slurs
Short biographies of a civil rights leader - early and upper elementary versions
Song lyrics slides
Song notation slides
Flexible instrumentation
Realistic xylophone diagrams for "air play" practice
Simple piano accompaniment
Guided instruction leads teacher & students through lessons
Interactive Table of Contents for easy navigation of lessons
The resources in our Music Literacy Series do not dictate the use of any specific rhythm syllable system. You may use any rhythm reading system - Kodály, French Time, Gordon, Takadimi, or Numerical.
⭐⭐⭐⭐⭐ Heidi T. - I am loving this resource. I used the MLK
highlight with pre-K through 4th graders to teach about him, the civil rights movement, and the song "Oh, Freedom". . . . The primary vs. intermediate slides were very well done. I was able to pick and choose slides depending on the time I had in classes. Thank you for this fantastic resource.
⭐⭐⭐⭐⭐ Laurie B. - I used this resource with my 1st-5th grade kids during our Black History Civil Rights Unit. I taught the song first, then each of the individual parts, then gradually put the whole piece together!
⭐⭐⭐⭐⭐ Brianna P. - Great Orff activity that led to so many great discussions.
⭐⭐⭐⭐⭐ Amy B. - Wonderful lesson for MLK Day - It is set up wonderfully to use across many classes if you wish. My kids loved playing the Orff arrangements that went with it!
_________________________
If you are looking for more READY-TO-USE music reading lessons using ICONIC and STANDARD music notation, don't pass up the sequential bundles below.
________________________

Thank you for visiting our store. Be sure to let me know if have any questions.
Don't forget to leave feedback. You earn TpT credit every time you leave feedback. That pays too!
Auf Wiedersehen!
TerriLloyd@FrauMusik.com
Total Pages
Includes Percussion Ensemble Score, Piano/Vocal Score, Presentation, MP3 Rehearsal Track
Report this resource to TPT