Black History for Early Grades: Billie Holiday Mini History Lesson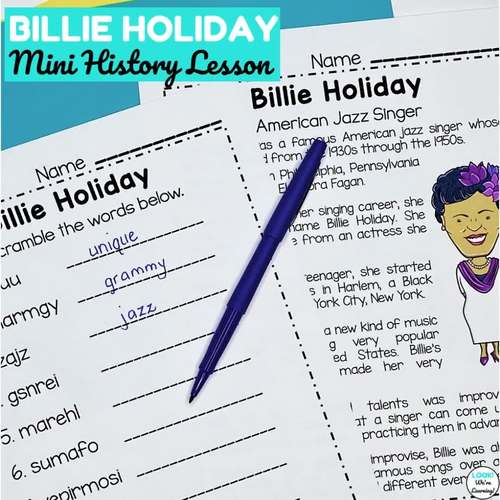 ;
Also included in
This digital + print Billie Holiday Mini History Lesson is such a great addition to your elementary Black history activities for the year! Use it for in-person or distance learning during Black History Month!The print resource includes:⭐ A two-page color Billie Holiday biography⭐ A two-page blacklin

Price $4.50

Original Price $5.00

Save $0.50

Teach your elementary students about four notable Black Americans with this elementary Black history learning bundle for early grades! This is a fantastic resource for Black History Month, but it's good for a history lesson any time of year.Note: This resource is not editable.This Black history bund

Price $10.80

Original Price $12.00

Save $1.20
Description
Looking for a way to teach black history for early grades? Introduce your students to one of the first ladies of jazz, Billie Holiday, with this mini history lesson! This is a perfect resource for Black History Month or music appreciation!
NOTE: This resource is not editable.
This 14-page history activity includes:

⭐ A two-page color Billie Holiday biography
⭐ A two-page blackline Billie Holiday biography
⭐ Billie Holiday Fill In the Blank Review Activity
⭐ Billie Holiday History Sequencing Activity
⭐ Billie Holiday Word Unscramble
⭐ Answer Key
⭐ Detailed suggestions for use, including a teaching script
⭐And a set of instructions!

Review the biography with your class and use the activities to test what they've learned!

This is a wonderful African-American history lesson for any time of year!
Need an online version for distance learning? See the digital version of this product >HERE<.

✧✧✧✧✧✧✧✧✧✧✧✧✧✧✧✧✧✧✧✧✧✧✧✧✧✧✧✧✧✧✧✧✧✧✧✧✧

Love this history lesson? Try some of my other Black history resources!

✨ African Kingdoms! African History Unit Study

✨ We Got Jazz! Black History Unit Study

✨ Mini Black History Lesson: Ruby Bridges Goes to School!

✧✧✧✧✧✧✧✧✧✧✧✧✧✧✧✧✧✧✧✧✧✧✧✧✧✧✧✧✧✧✧✧✧✧✧✧✧

Claim Your TPT Credits!

Go to your My Purchases page. Click Provide Feedback to leave me a quick rating! Every time you leave feedback, you get a credit toward future TPT purchases!

Get on the List!

Click the green Follow Me link next to my store logo to be the first to learn about new products I share!
Report this resource to TPT