Blends Decodable Readers | R Blends, L Blends, S Blends, Consonant Blends Books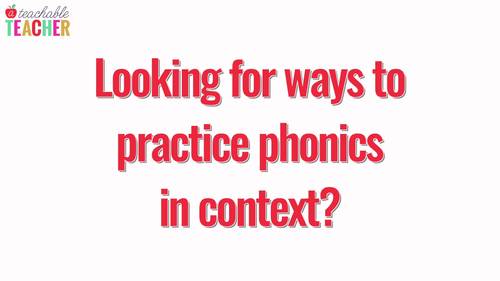 ;
33 books / 66 usable pages
What educators are saying
I love these for reading rotations and my students love them as well. They get super excited about having a little book to take home to read at home.
Also included in
Decodable Readers for all phonics skills in a money-saving (50% off) bundle is here! Just one page turns into a decodable book (don't cut, just fold!) with decodable text!This SUPER Bundle of Decodable Readers are the perfect way for new readers to practice reading words with new target phonics skil

Price $35.05

Original Price $70.10

Save $35.05
Description
Blends Decodable Readers is the perfect way for new readers to practice reading words with consonant blends in context.
⭐ Click here to SAVE BIG with the Decodable Readers SUPER Bundle and have printable decodable books and pre/post reading activities for every single phonics skill, all year long! ⭐
These no prep, fold-and-go decodable readers use the targeted consonant blends and sight words in each reader.
They're perfect for beginning readers because they are printable, require no prep, and include pre-reading and post-reading activities.
No worries about germ-sharing here! Every student can have their own decodable reader and extension activities - with limited paper on your end!
About the Printable Decodable Readers
-Each Decodable Reader is made of ONE page. No stapling required. Just print, fold, and go!
About the Extension Activities
-The pre-reading and post-reading extension activities are one combined page. They are no prep. Just fold and go!
Pre-Reading Activities
-Students will highlight the words with blends both in the reader and on the extension activity page.
-Students will point and read the words with blends. (decoding practice)
-Students will point and read the sight words. (front loading)
-Students will read the decodable reader three times to build fluency.
Post-Reading Activities
-Students will answer the two multiple-choice, text-based questions.
-Students will write words with blends on the lines provided.
There are 33 books included; each with a pre/post reading activity (shared) page.
⭐️ Remember, these books are decodable, so they focus on words with short vowels and consonant blends. ⭐️
--Some target skill words contain beginning digraphs and double final consonants.--
cl
gl
pl
sl
gr
tr
st
mixed beginning l blends (2)
mixed beginning r blends (2)
mixed beginning s blends (2)
lt
lf
lp
lk
ct* (due to word availability, there are skill words with more than one syllable in this text)
ft
mp
ng
nk
nd
nt
sk
st
mixed ending l blends (2)
mixed ending n blends (2)
mixed ending s blends
miscellaneous ending blends
★Blends Decodable Reading Passages</a>
Build fluency and comprehension when reading words with blends with these NO PREP My First Phonics Reading Passages!
★ Blend & Read words with Blends
No PREP practice to help students new to consonant blends feel successful, and FAST!
★ Blends Boom Cards Mega Bundle
Interactive, self-correcting, digital task cards for blending and reading words with, building words with blends, and reading words with blends in the context of a sentence. Use for at-home learning or as the perfect independent classroom center.
1 ► Leave me a ❓"question" in my TpT store OR
2 ► Email me Lauren@aTeachableTeacher.com
► Click HERE to follow my store and be notified when new resources are posted.
► Click HERE to join The Teachable Teachers!
Total Pages
33 books / 66 usable pages
Report this resource to TPT