Blowing Bubbles Speech Therapy Conversation Scripts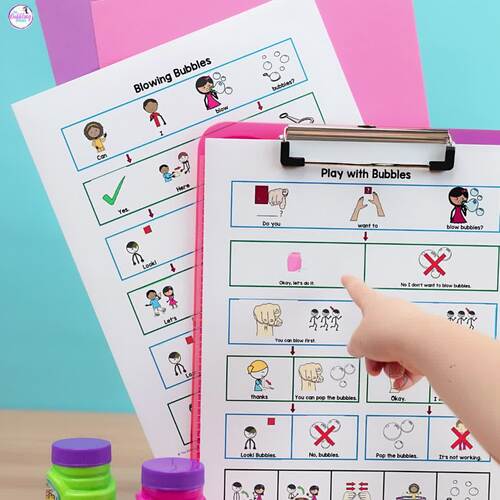 ;
What educators are saying
This was super helpful in working with my prek- k students this year. In particular it helped me show parents how we can use scripts and echolalia speech to build on, and not eliminate.
This was a great script to help my student who loves blowing bubbles engage in the activity more interactively with others.
Description
Work on social communication while playing with bubbles using these conversation scripts that provide editable visual supports for autistic students.
Stacy M. said, "This is such a great therapy tool for my students with autism! Love it!"
Empowering Speech Services said, "This is an excellent resource. It is perfect for parents who need assistance enriching their child's speech and language. It's also great for seasoned SLPs who are constantly looking for ways to improve their therapy. Highly recommend!"
You can help your students with Autism engage in more social interactions using conversation scripts. Use these ❤️blowing bubbles conversation scripts❤️ to help your students learn the social communication needed to engage in this play activity.

These resource shares strategies and tips for implementing conversation scripts in your sessions as well as citing research on the evidence-based strategy of using conversation scripts with Autism.

You can use the different leveled editable conversation scripts to make a customized script that fits your student's language abilities and visual needs.

Included with the blow bubbles speech therapy conversation scripts:

⭐3 versions of scripts with pictures and text boxes.
⭐3 versions of written conversation scripts included a black-and-white option.

These conversation scripts are fully editable and can add in images and photos specific to your caseload.

When you have the visual supports your students need to increase participation in activities you can enjoy therapy without stressing about having the time to make the visuals.

For more visual support resources, check out these resources:

• AAC CORE Vocabulary Activities - MORE, EAT, ALL DONE, YES/NO Google Slides™
• AAC CORE Board for Meal time
• AAC CORE Vocabulary Starter Kit For Special Education & Students With Autism
• Daily Routines at Home Visual Communication Boards
• Behavior Visuals For Students With Autism
• Behavior Visuals To Teach Routines & Expectations - with Google Slides™
• Student Language Helpers - Visual Supports for Language
Report this resource to TPT