Body Percussion Activity for Kids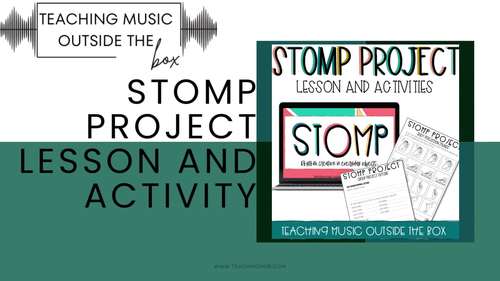 ;
Description
This Body Percussion Activity for Kids is great for exploring what are timbre in music through STOMP, nontraditional music, cooperative learning, and an element of excitement! For this music rhythm exercises, after they are introduced to body percussion and non-traditional instruments in a beautiful slideshow, students will can use their bodies or every day objects as a means to compose music; plastic bags, trash cans, pool noodles, milk jugs, etc. Through collaborative group work, students will create their STOMP project, come up with a silent skit (while performing their rhythms), and then perform in front of the class. See the "Tips and Tricks" page for inspiration to make this project even more fun!
In this file you will receive:
25 Slide Google Instructional Slideshow, including body percussion videos
10 Different handouts to use throughout the lesson and activity
1 Rubric
Teacher Guide to the Instructional Slideshow and the Handouts
Project information in Tips and Tricks to really get the classroom to be creative! Some tips on collaborating with the art teacher.
This can easily be a week long project. If you have your class watch "Stomp" at any point, this is a great rhythm activity to have them experiment with their body percussion. If you don't have your kids watch "Stomp", then you are missing out!
✅ Extra information and videos can be found on my Blog Here. ✅
For more content and resources, join at .
Other resources that would check your eye:
Contact me at if you have any questions.
For more fun content, find me at:
Report this resource to TPT