Boho Classroom Decor Bundle Modern Neutral Colors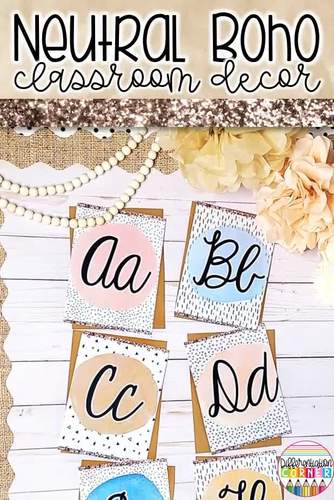 ;
What educators are saying
Love the colors and all the decor within the pack. It is easy to edit & is making decorating my room so much easier!
This set is so neutral and pretty.....the black and white patterns are just enough pop in the background. This is a great set.
Products in this Bundle (16)
showing 1-5 of 16 products
Bonus
Neutral Boho Name Plates/ Plain, Primary & Cursive
Description
Are you feeling the boho classroom decor vibes this year? This editable modern boho classroom decor bundle is going to be so beautiful with these stylish neutral colors! Everything you need for your warm & welcoming classroom is included!
Create your beautiful boho classroom with this theme bundle. So many resources are included to make classroom set up, design and organization a breeze for back to school in beautiful retro neutral colors and tones!
Save 50% when you buy this bundle + get the exclusive bonus!
You really need to check out the preview to see this beautiful classroom decor pack!
Many editable PowerPoint files are included with the fonts already embedded for you so you can create any boho neutral bulletin boards or classroom posters you need! You can edit the font size, color, and style. You cannot edit the graphics.
☀️
✰ Manuscript Alphabet Poster
✰ Cursive Alphabet Posters
✰ Word Wall Bulletin Board
Letter Cards (2 styles) Cursive & Manuscript
Word Wall Cards (230+ Premade) Cursive & Manuscript
Editable Word Wall Words, Banner & Letter Cards
✰ 16 Classroom Rules Posters with Banner
16 Editable Posters & Banner
✰ Teacher Toolbox Labels
72 Premade & Ready to Print
Editable Teacher Toolbox Labels
✰ Editable Labels
9 different sizes & Shapes- 8 different designs per label size
✰ Editable Behavior Clip Chart
✰ 40 Premade Binder Covers & Spines
40+ Editable Binder Covers & Spine designs
Spine sizes in 2, 1.5, 1 & .5 inches
✰ 0-30 Number Posters with ten frames
✰ -24 - 150 Number Line
✰ Clock Labels in 2 sizes
o'clock, quarter to, quarter past, half past signs
✰ Editable Banner with separators in 8 designs
193 pages of editable banners
✰ Classroom Calendar Set
2 number designs & 87 special event cards
months of the year
days of the week
year cards
weather
yesterday was, today is, tomorrow will be
calendar banner
SO MANY editable pieces
✰ Birthday Bulletin Board
2 banner choices, 2 sizes of months
editable months, name cards, banners
✰ Classroom Jobs Chart
Editable Jobs Cards, Name Cards, Banner
✰ Schedule Cards Bulletin Board Display
2 sizes of bulletin board headers
analog clocks & digital times
Editable Schedule Cards, banners, time cards, both sizes of bulletin board headers
✰ Table Number Signs
✰ Welcome Banner
Premade, Easy Print Welcome Banner
☀️Bundle Exclusive BONUS:
✰ Editable Desk Name Tags (primary and regular)
❤️Matches the Set But Not Included in Bundle:
The fonts used in this neutral color boho classroom theme are: CC Team Socially Awkward and KG Beneath Your Beautiful. These fonts are embedded in all the editable decor PowerPoint files. There are so many versions of PowerPoint and operating systems that I cannot guarantee that they will work on your computer without being installed directly. But attempts were made on my part :)
***************************************************************************************************
⭐Follow me for freebies, new products and sales! All new products are 50% off for the first 48 hours!
***************************************************************************************************
❤️Other Classroom Decor Themes:
⭐PRINTING TIPS:⭐
All resources can be printed on regular printers. You do not have to use a printing service unless you would like to! You can use standard printing paper or cardstock. Print pieces that will be used and handled often on cardstock.
Before printing heavily detailed resources, make sure you have the latest version of Adobe Acrobat Reader. There are many programs that will print a PDF, but TpT recommends Adobe Acrobat Reader for the highest quality. Click here for specific directions from TpT for printing resources with many graphics.
Teaching Duration
Lifelong tool
Report this resource to TPT