Boho Farmhouse Classroom Decor Theme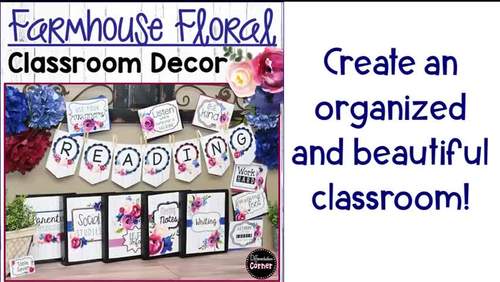 ;
What educators are saying
Such an extensive and beautiful collection and bundle. The customization options are endless and its truly well put together.
This bundle has everything you may need to decorate your classroom. The templates are super cute and fun. It is very easy to edit and print off.
Products in this Bundle (16)
showing 1-5 of 16 products
Bonus
Editable Farmhouse Floral Classroom Decor
Description
Editable Boho Farmhouse Classroom Theme BUNDLE with navy, burgundy, shiplap and floral accents would compliment any modern shabby chic classroom! Everything you need for your boho country farmhouse themed classroom is included! Check out the preview!
Many editable PowerPoint files are included! You can edit the font size, color and style. You cannot edit the graphics.
✰ Manuscript Alphabet Posters
✰ Cursive Alphabet Posters
✰ Word Wall Letter Cards (3 styles)
✰ Word Wall Cards (230+ Premade)
✰ Editable Word Wall Cards
✰ 16 Classroom Rules Posters with Banner
✰ 16 Editable Blank Posters & Banner
✰ Teacher Toolbox Labels (72 Premade)
✰ Editable Teacher Toolbox Labels
✰ Editable Labels in 9 different sizes & Shapes- 8 different designs per label size
✰ Table Number signs in 3 sizes
✰ Schedule Cards Bulletin Board Display
✰ Editable Schedule Cards
✰ Welcome Banner
✰ Behavior Clip Chart
✰ 40 Premade Binder Covers & Spines
✰ 40 Editable Binder Covers & Spine designs
✰ 0-20 Number Posters
✰ 0-150 Number Line
✰ Clock Labels in 2 sizes
✰ Editable Banner with separators in 8 designs
✰ Calendar Set with 3 number designs, month & year cards, etc.
✰ Editable Calendar Set
✰ Birthday Bulletin Board
✰ BONUS: Editable Desk Name Plates
______________________________________________________
TEACHERS LIKE YOU SAID…
⭐️⭐️⭐️⭐️⭐️Julie R. says "I decorated my Kindergarten classroom this year with Farmhouse Classroom Decor. I loved it. It made it easy to use displays in daily teachings."
⭐️⭐️⭐️⭐️⭐️Dulce N. says "I love my Farmhouse Decor. My classroom is so bright and cheerful."
⭐️⭐️⭐️⭐️⭐️Caryn H. says "I love the farmhouse floral design and my binders have never looked so organized and pretty. Thank you so much for making this for us to use! I am not planning on changing my theme for a long time now."
⭐️⭐️⭐️⭐️⭐️Kelly J. says "This is so cute! I love the farmhouse theme, and this is the only one I could find with navy instead of black!"
⭐️⭐️⭐️⭐️⭐️Rachel G. says "This is GORGEOUS!! Everything you need for classroom decor in one file! Exactly what I was looking for. Rustic with a little bit of color."
______________________________________________________
Before printing heavily detailed resources, make sure you have the latest version of Adobe Acrobat Reader. There are many programs that will print a PDF, but TpT recommends Adobe Acrobat Reader for the highest quality. Click here for specific directions from TpT for printing resources with many graphics.
______________________________________________________
⭐Follow me for new products and sales! All new products are 50% off for the first 48 hours!
______________________________________________________
Report this resource to TPT