Book Jacket Book Report: Book Jacket template | Writing, Art & Reading combined!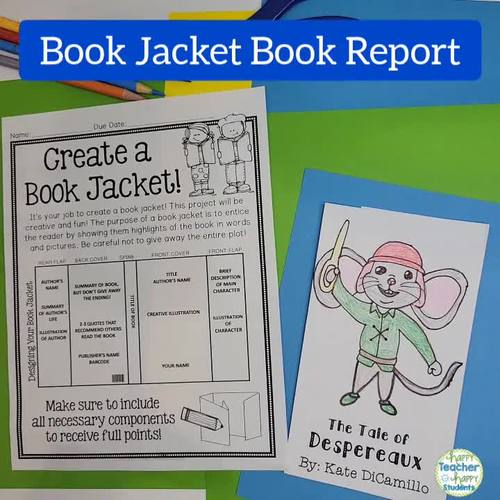 ;
What educators are saying
This is a great activity for my after school club. We are working on theme and main ideas in novel study. It gives kids a way to create and show their learning through art.
My students loved using this resource for their independent book report projects. It was fun and engaging for them!
Also included in
This Book Report Bundle contains 8 of my best-selling book reports perfect for 2nd, 3rd, 4th & 5th grade students. Each book report template includes project description with coordinating grading rubric. Most book reports include sample photos of completed projects as well! 30% Off versus buying

Price $16.75

Original Price $24.00

Save $7.25

This Book Report Bundle contains 30 of my best-selling book reports perfect for elementary and middle school. Tired of boring book reports? Try these unique, creative & fun creative book reports instead! Most book reports contain grading rubrics, photo examples and teacher tips to help students

Price $45.99

Original Price $81.30

Save $35.31
Description
Book Jacket Project: Students must include the following on their Book Jacket template for fiction books: Character Summary, Author Biography, Illustrations, Book Summary, and more. This book report can be used after completing any fiction novel study. I recommend showing students example book jackets from their favorite stories to get them motivated & their creative juices flowing.
This book jacket book report is perfect for 3rd grade, 4th grade, 5th grade & middle school.
Book Jacket Book Report Product includes:
- Book Jacket Project description page
- Grading Rubric (half-page design)
- Example photos of a completed book jacket
- Book Jacket Template
- Rough Draft Guided Template
This book report project is an equal mix of writing and creativity that students love! My students typically complete their book jacket in in three 30-minute periods.
Happy Teaching!
Looking for more BOOK REPORTS?
♥ Book Report Commercial: Book Commercial
♥ Book Report Bundle - 8 Best-Selling Book Reports - 60% Savings!
❤ Click HERE to view 750+ resources by Happy Teacher Happy Students ❤
************************************************************************************************
Join for Exclusive Freebies, Tips & Tricks
⭐Happy Teacher Happy Students Blog
Visit My Blog and Chat All Things Teaching!
⭐Instagram: Let's be friends!
Use one of my resources in your class or homeschool? I want to see it!
Tag me @happyteacherhappystudents in your photo I'll send you a special freebie.
⭐ Questions? Looking for something not already in my store?
Contact Me @ happyteacherhappystudents@yahoo.com
************************************************************************************************
** Visit my STORE and click on the 'green star' to follow me and be the first to know about new products, sales & freebies!
** Please remember to rate this product so that you earn TPT Credits for future purchases!
Copyright © Happy Teacher Happy Students. All rights reserved. This file is intended for classroom and personal use only. Any redistribution or reproduction of part or all of the contents in any form is prohibited other than the following:
**You may print for your personal, classroom use, and non-commercial use only.
**Clipart, graphics, photographs, found inside this product are copyrighted. They may not be extracted from this file without written permission from the original artist(s).
Report this resource to TPT
Standards
to see state-specific standards (only available in the US).
Read closely to determine what the text says explicitly and to make logical inferences from it; cite specific textual evidence when writing or speaking to support conclusions drawn from the text.
Determine central ideas or themes of a text and analyze their development; summarize the key supporting details and ideas.
Read and comprehend complex literary and informational texts independently and proficiently.
Produce clear and coherent writing in which the development, organization, and style are appropriate to task, purpose, and audience.
Develop and strengthen writing as needed by planning, revising, editing, rewriting, or trying a new approach.