Boom Cards Alphabet Activities Bundle (Digital Task Cards) - Distance Learning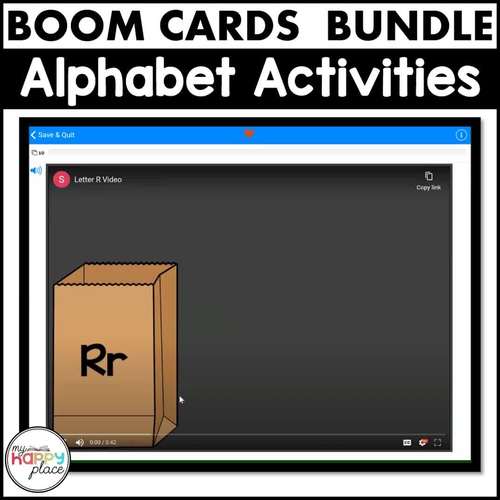 ;
Compatible with Digital Devices
The Teacher-Author has indicated that this resource can be used for device-based learning.
What educators are saying
Very useful product especially in small groups. My kids love the immediate feedback that this set of boom cards provides.
Description
This bundle of kindergarten alphabet activities for use on the Boom Learning platform makes a wonderful supplement to your phonics instruction. Perfect to use at home or in the classroom, these literacy activities are fun and meaningful.
This bundle includes a 10-card deck for each letter of the alphabet. The individual decks are designed to give students an understanding of each letter of the alphabet. Activities include: letter and sound identification, American Sign Language, capital and lowercase letter sorting, and letter formation. Each deck begins with a short (about 45 seconds) video introducing the letter and its most common sound.*
You can try out each of these decks with a 4-card preview by clicking here!
If you'd like to see the full breadth of activities included in these decks, you can get the letter M activities for free right here.

When you purchase this product, you will receive a PDF with a link to the digital task cards on the Boom Learning Site. If you are new to Boom Learning, you will be prompted to create a (free) account. This account will give you a free three-month trial of Boom's premium features. Once you have created your account, all 26 decks will appear in your library automatically.
*****
New to Boom Learning? Here's what you need to know:
To use Boom Cards, you must be connected to the Internet. Boom Cards play on modern browsers (Chrome, Safari, Firefox, and Edge). Apps are available for Android, iPads, iPhones, and Kindle Fires. For security and privacy, adults must have a Boom Learning account to use and assign Boom Cards. You will be able to assign the Boom Cards you are buying with "Fast Pins," (play provides instant feedback for self-grading Boom Cards). Fast Play is always a free way for students to engage with Boom Cards decks. For additional assignment options you'll need a premium account. If you are new to Boom Learning, you will be offered a free trial of our premium account. Read here for details: http://bit.ly/BoomTrial.
*****
*The introductory letter videos are embedded in the deck, but hosted on Youtube and may not display in places where Youtube is blocked. The rest of the activities are not dependent on Youtube, however, and the decks are useful even without the introductory video.
If you have any questions, please use the "Ask a Question" feature on my store page or email me at susan@myhappyplaceteaching.com
These alphabet activities are for use with Boom Learning. For alphabet activities made for the Google Slides platform, click here.
Click here for more distance learning from My Happy Place.
I would love to have you as a follower! Click the green star to be the first to know about new resources.
Thank you for shopping!
Susan Jennings (My Happy Place)
Answer Key
Does not apply
Report this resource to TPT
Standards
to see state-specific standards (only available in the US).
Recognize and name all upper- and lowercase letters of the alphabet.
Demonstrate basic knowledge of one-to-one letter-sound correspondences by producing the primary sound or many of the most frequent sounds for each consonant.
Associate the long and short sounds with common spellings (graphemes) for the five major vowels.
Print many upper- and lowercase letters.
Write a letter or letters for most consonant and short-vowel sounds (phonemes).