Boom Cards™ MEGA Bundle - Math and Literacy Skills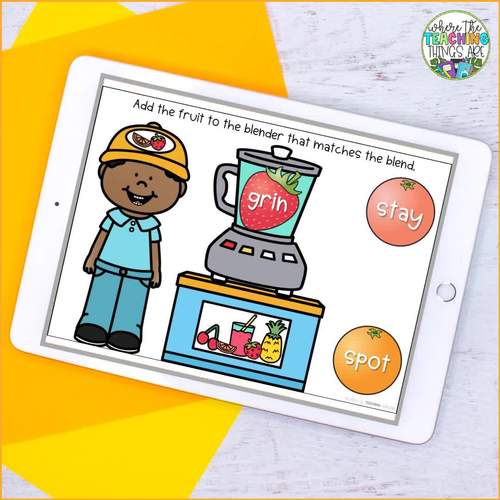 ;
Compatible with Digital Devices
The Teacher-Author has indicated that this resource can be used for device-based learning.
What educators are saying
This was a great resource not only for distance learning, but for in-class for the smartboard as well. It had a great variety of games. My kids enjoyed the games.
My students enjoy using Boom Cards. These are perfect for my students. I use them as a literacy center.
Products in this Bundle (22)
showing 1-5 of 22 products
Bonus
One Click Bundle Download Link
Description
These digital task cards are such a fun and engaging way for students to practice their reading and math skills! Your students will LOVE all the colorful, entertaining themes!
This MEGA bundle includes ALL of my reading and math Boom Decks™ in one convenient, discounted packet (see One Click Bundle Download PDF). By purchasing this bundle at the current price, you receive a 30% discount PLUS any new decks for FREE!! (Note: as I add to this bundle, the price will increase accordingly for future customers.)
This bundle includes the following skills:
Letter recognition
Beginning sounds
Rhyming words
CVC words
Word families
Sight words
Blends
Digraphs
CVCe words
Counting 0-20
Counting by tens
Comparing numbers to 20
Addition within 10
Subtraction within 10
Telling time to the hour
Nonstandard units of measurement
The cards are interactive, self-checking, and provide instant feedback. How cool is that?! They work great in a technology center at school or as a distance learning resource at home! :)
Check out a preview of the cards here!
Before You Purchase: Please be aware that the reading Boom Decks™ are also included in my Boom Cards™ Growing Bundle – Literacy Skills and the math ones are included in my Boom Cards™ Growing Bundle – Math Skills (in case you already bought either of these bundles).
----------------------------------------------------------------------------------------------------------------------------
-Please Note: These cards are hosted on the Boom Learning website, so you will need an account to access them. If you don't already have one, you can sign up here: https://wow.boomlearning.com/. Membership plans range from free to $25/year. When you purchase this product, you will receive a PDF with a link to redeem your cards on the Boom Learning platform (directions included!).
-To use Boom Cards, you must be connected to the Internet. Boom Cards play on modern browsers (Chrome, Safari, Firefox, and Edge). Apps are available for Android, iPads, iPhones, and Kindle Fires. For security and privacy, adults must have a Boom Learning account to use and assign Boom Cards. You will be able to assign the Boom Cards you are buying with "Fast Pins" (play provides instant feedback for self-grading Boom Cards). Fast Play is always a free way for students to engage with Boom Cards decks. For additional assignment options you'll need a premium account. If you are new to Boom Learning, you will be offered a free trial of the premium account. Read here for details: http://bit.ly/BoomTrial.
-You may be eligible for a free trial from Boom Learning! Read here for details: http://bit.ly/BoomTrial. If you choose not to stay on a premium account after your free trial, you will still be able to assign all your Boom Cards to as many students as you see fit using Fast Play pins (which give instant feedback for decks that are self-grading).
If you have any questions about your Boom Cards, please feel free to email me at: wheretheteachingthingsare@gmail.com
*I LOVE to hear from you! Your feedback is always greatly appreciated AND you earn TpT credits (to use on future purchases) when you leave a review!
**Click the green star to follow my store and stay up to date on all my latest resources, discounts, and freebies!
Report this resource to TPT
Standards
to see state-specific standards (only available in the US).
Count to 100 by ones and by tens.
Count forward beginning from a given number within the known sequence (instead of having to begin at 1).
Compare two numbers between 1 and 10 presented as written numerals.
Describe measurable attributes of objects, such as length or weight. Describe several measurable attributes of a single object.
Represent addition and subtraction with objects, fingers, mental images, drawings, sounds (e.g., claps), acting out situations, verbal explanations, expressions, or equations.