Bounce High Bounce Low Song With NEW Rhyme Orff Barred Instrument Part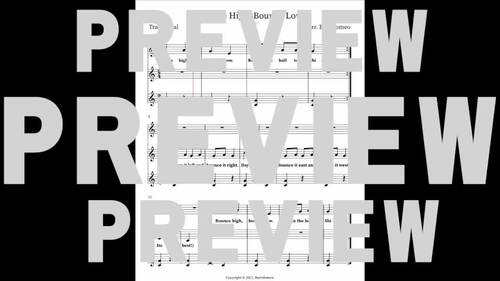 ;
Description
Find engaging ways to get your students playing BARRED INSTRUMENTS with a new easy-to-teach rhyme melody and Orff arrangement, that goes with the classic song Bounce High Bounce Low. This song is perfect for you to with its so, la, so, mi pattern as well as for you to teach quarter and paired eighth notes. The new rhyme extends the learning into a beautiful ternary ABA form and is part of this practically no-prep, multi-lesson resource.
A presentation in both PPT and Google Slides versions
A video preview of the song arrangement in each presentation
A PDF copy of the song arrangement sheet music
Check out the PDF and VIDEO previews ⬆above⬆ to see and hear the resource.
Don't have enough barred instruments?
On the bordun, use Boomwhackers or ukuleles.
On the melody, use melody bells or Boomwhackers.
❤️❤️❤️ The ukulele part can be played using a C6 chord-ALL OPEN STRINGS!
*************************************************************************************
❤️ Join the Oodles weekly e-mail list where I give you my biggest and best finds for the coming week. Freebies, latest cool videos by content creators, and so much more.
Report this resource to TPT