Brain Break Bingo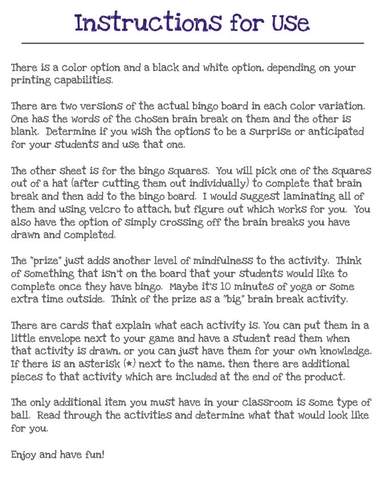 ;
Description
We know brain breaks are important in the classroom. Brain Break Bingo takes it one step further!
Each box has a different brain break activity to complete. None require technology! They only take a few moments, but they are unique and perfect little breaks for your day. As an activity is completed, that square is now "used" on the bingo board. The class can decide what the prize is for winning bingo...it should be a "big" brain break activity like yoga, an online program, extra recess, etc.
In this activity, you will receive:
Color and black and white boards and activity squares
A card that explains each activity
Supplemental printouts for a select few activities that require them
I would greatly appreciate your feedback!
Any questions? Please let me know as soon as possible in the product Q/A so I can help.
**To learn more about this activity, visit studentcenteredworld.com/brain-break-games/**
Report this resource to TPT