Broadway Musical Unit and Study Guide for SpongeBob Squarepants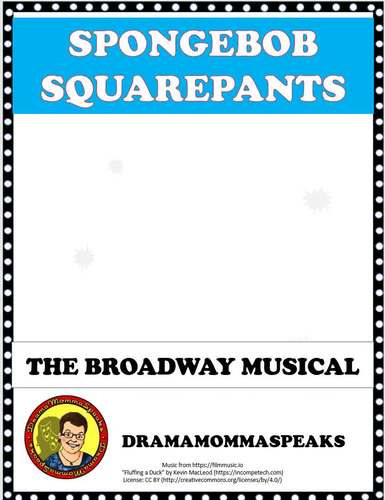 ;
Easel Activity Included
This resource includes a ready-to-use interactive activity students can complete on any device. 
Easel by TPT is free to use!
Learn more
.
Compatible with Digital Devices
The Teacher-Author has indicated that this resource can be used for device-based learning.
What educators are saying
Deb's resources are always well developed and full of gems to pass on to students. It was a good resource for my musical unit.
Perfect supplement to our Musical Theatre Theme week at summer camp. Lots of great links and information. Thank you!
Also included in
SAVE THROUGH A BUNDLE! This GROWING BUNDLE contains 21 different musical theater lessons and study guide (1,000 + pages) -- one the origin of the Tony Awards and twenty concerning popular award-winning Broadway musicals. Students will come away with exceptional, broad knowledge and a new appreciati

Price $131.00

Original Price $155.98

Save $24.98

DISCOUNT 30%! Are you looking for year-long theater education curriculum and help from an award winning, veteran drama teacher? I created a gigantic bundle of drama lessons, units and plays to help you! This bundle includes 49 products (NEARLY 1,500 PAGES) which were all created by me and time test

Price $199.14

Original Price $285.24

Save $86.10

20% OFF! This BUNDLE contains FOUR different lessons about the Broadway musicals--Wicked, A Christmas Story, The Wiz and Spongebob Squarepants. Students will come away with more knowledge and a new appreciation of the awards and the origin of these Broadway musicals. These are great for the busy

Price $21.60

Original Price $30.00

Save $8.40

BUNDLE save 30% Here are 44 lessons (1,070 pages) with research and study guides focused on Tony Award winning Broadway musicals and famous theater artists through short biographies. Students study, research, synthesize and apply the information with opportunities for individual, distance and/or co

Price $153.62

Original Price $219.45

Save $65.83

BUNDLE! This particular bundle was created for a middle school teacher who requested it. Save up to 20% on bundles. YOU can do the same thing! Any two lessons can be bundled if you merely write me through my Questions/Answers page. Any grave level, any category, any lesson. THE PRICE WILL DEPEND

Price $89.78

Original Price $100.40

Save $10.62
Description
Part of a Bundle Everyone loves Spongebob Squarepants! This Spongebob Squarepants low prep, engaging lesson and study guide is popular especially with fans of the Nickelodeon television series. Students learn about the origin, creative team, plot, trivia and apply the learning to a set or costume design assignment.
This one or two-day lesson can stand alone or be combined with one of my Famous Artist biographies. Students learn about the history of the production, view video clips, answer questions and learn trivia from the musical.
The teacher will need access to YouTube.com
Need a quick emergency lesson plan? Or one for a substitute? Everything is provided for the busy teacher.
This Product includes:
Letter to Teacher
Warm Up--MY Version of a Popular Improvisation Game
Teacher's Script--what I say and how I say it!
Photos
Plot of the Musical
Facts About the Production
A Mini Lesson on: What are the Tony Awards?
Tony Awards it Received
What Tony Awards it Won
New York City Map with Competing Theaters Labeled
Student Note Page
Teacher Note Page Key
GREAT Extension Activities--Terrific Suggestions & Ways to Secure the Learning and Enrich the Experience
Trivia about Spongebob Squarepants and the Broadway Theater
BONUS--Costume Design Template
BONUS--Set Design Template
Sources & Links to Film Clips from the Show
And More!
Comprehensive? You bet.
This is a unique, engaging product created by an award winning, veteran drama teacher of 38 years.
Do you follow me? If not I'd love it if you would!Follow me
Check out my other TPT products at:
Here's what reviewers have said of Dramamommaspeaks products:
"A resource that includes everything you need! Two-days of diving into the world of Tony Awards, students will love it. Brimming with fascinating trivia!"
"WOW! WHAT an AWESOME Resource!!!! Thanks for providing the questions, the links, a couple of different teaching options. This could be a great sub plan, but I know every teacher wants to do this lesson for themselves. Love that you finished with a great tweet from L M Miranda. Kids are gonna love THIS!"
Set Design, Fairy Tale Setting
"This is such a wonderful and creatively made resource!"
Earning TPT Credits
• Do you want credit for future TPT purchases? Just provide feedback for resources you purchase. Click on the "provide feedback" button next to your purchases, rate the resource, and leave a short comment. (You need to do both to earn credits.)
You receive 1 TPT credit for each dollar you spend, and you can spend it just like cash on future Teachers Pay Teachers purchases.
Report this resource to TPT