Bucket Filling & Bucket Filler Packet of Activities Worksheets and Printables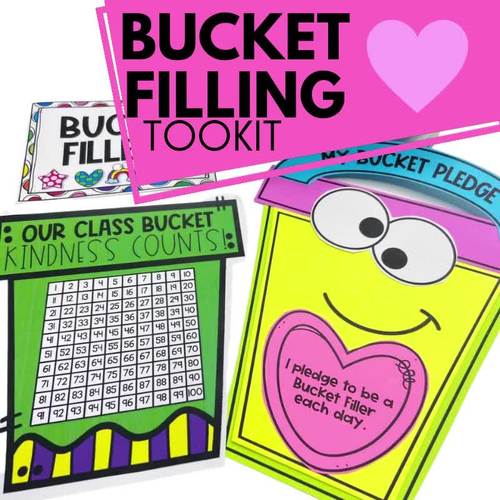 ;
Description
Need to find a better method for classroom management? Try this Bucket Filling Packet of Worksheets, Printables, and Activities that's been used in over 8,000 classrooms of Bucket Fillers to promote kindness and community.
After implementing these Bucket Filler activities, watch your classroom climate become positive, and see student behavior improve dramatically! Keep reading to find out more about this complete Bucket Filling toolkit!
WHY Bucket Filling?
Positive Approach to Classroom Management
Reward Individuals and/or the Whole Class
Connects with Popular Children's Bucket Filler Books to Solidify the Concept
Fun and Engaging
Way to Incorporate Social-Emotional Learning into Your Classroom
✅ Anchor Chart Parts and Photo Example
✅ Scenario Discussion Cards
✅ Behavior Sorting Activity
✅ Cut and Paste Behavior Sorting Activity
✅ 8 Bucket Filler Worksheets
✅ Classroom Banner and Bucket Filler Gallery Sign
✅ Original Bucket Filler Chant/Poem
✅ Pocket Chart Version of the Poem
✅ Kindness Counts- 100 Acts of Kindness Tracker
✅ Small Bucket Filler Take-Home Notes or Rewards (Color and B/W)
✅ Bucket Filler Certificate (Color and B/W)
✅ Bucket Filler of the Month Certificate (Color and B/W)
✅ Bucket Filler of the Week Certificate (Color and B/W)
✅ PowerPoint presentation called "Maizy and the Bucket Fillers" -
to show how Bucket Filling helps in the classroom.
(NOTE: You may view this as a PowerPoint Presentation only.)
✅ Printable (color) PDF version of "Maizy and the Bucket Fillers." Laminate this one and put it in the reading center for students to reread.
⭐️Bucket Cards - Type in students' names
⭐️Bucket Filler and Bucket Dipper Scenario Cards -
Type in behavior scenarios that need to be discussed in your
unique classroom
❤️ You will LOVE this Resource because it will transform your classroom to one where kindness, community, and empathy are evident.
--------------------------------------------------------------
TEACHERS LIKE YOU SAID…
⭐️⭐️⭐️⭐️⭐️ A 2nd grade teacher said, "Showing students the positive side of things and how to treat each other, especially now, is so important. Social skills are going untaught due to situations that are out of our control, so little things that help them learn social cues and general expectations make a big impact. "
⭐️⭐️⭐️⭐️⭐️A 3rd grade teacher said, "I loved the range of activities and content available in this pack. I was able to pick out what I wanted to use and I built a weeks' worth of work around this resource, with pictures books to reinforce the material. They loved it!"
---------------------------------------------------------------
Having difficulty with a file?
Visit the FAQs section, submit a help ticket, or ask a question on the Q& A tab before leaving feedback.
---------------------------------------------------------------
Copyright © ASHLEY REED - JUST REED & PLAY.
Permission to copy for single classroom use only.
Please purchase additional licenses if you intend to share this product.
Teaching Duration
Lifelong tool
Report this resource to TPT