Buddy Reading | Reading Buddies Activities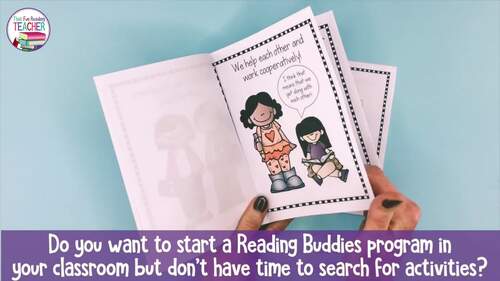 ;
Easel Activity Included
This resource includes a ready-to-use interactive activity students can complete on any device. 
Easel by TPT is free to use!
Learn more
.
What educators are saying
Loved being able to display reading buddy expectations in the library when we were there. The buddy activities were very well received!
My students loved using this activity for reading buddies. It lasted several sessions and got them talking to each other.
Description
This collection of Reading Buddy Activities was created for multi-grade students to enjoy together throughout the year. 
Not sure where to start? This resource contains tips, organizers and activities to help you get your program rolling efficiently!
Included in this Resource:
Letter of invitation to become Reading Buddies from one teacher to another
Form for class availability / time preference for Buddy meetings
Blank Reading Buddy pair-up list (non-editable PDF)
What Reading Buddies Do, a full-color, seven page that can be used as posters to reinforce positive expectations for Reading Buddy time (plus a line art version for coloring)
Reading Buddy mail label and invitations
Big Buddy Code of Honor - a contract highlighting responsibilities for older students
We are Buddies booklet for Big and Little Buddies to create together. Great for Little Buddies to keep for ! 
Reading Buddies coloring activity (includes six versions of partially completed Melonheadz 'Create-a-Kid' line drawings (3 Big Buddies, 3 Little Buddies; 2 girls, 2 boys, 2 generic)
Reading Buddy notebook covers
Conversation starter tips for Big Buddies speaking to Little Buddies
2 Venn diagrams: Compare and contrast the interests and what kinds of books they like)
Book Review form
Story Summary (beginning, middle, end)
More story follow-up activities: Setting, Characters, Plot Summary (how, where, when)
Buddy Reading LOGS (coloring page with pile of logs to record books shared together)
Book Review Rating Sheets - Each Buddy creates his / her own criteria and decides how many stars to color based on criteria
Book Recommendation Certificates
Favorite Seasons compare / contrast printable
Halloween activity and card as shown !
Thanksgiving story reading follow up activity and boy and girl versions of Thanksgiving card "I am thankful..."
Winter Holiday Traditions graphic organizer 
"Happy Holidays, Reading Buddy!" card
Working Together for Earth Day coloring sheets
End of year card - "Thank you and have a good summer! (Be sure to say hi to me when we're back at school!)" and more!
Fun, open-ended visual prompts (spinners and flashcards) representing questions (Who, What, Where, When, How, Why), encouraging discussion, comprehension, creation of activities / games for buddies to do together 
Read about The Benefits of a Reading Buddies Program here, and click here for Tips for starting a Reading Buddies Program in your classroom!
REVIEWS
⭐⭐⭐⭐⭐ "There are so many fun activities that helped guide my class's time with their reading buddies! This resource offers a great way to set expectations at the beginning of the year and kept them going throughout the year. My students LOVE their reading buddies; I can't wait to use this resource each year!" -Mara L.
⭐⭐⭐⭐⭐ "My students loved getting together with their book buddies. Thank you for providing ideas and activities to do throughout the year.  This resource makes book buddies stress free." -Jennifer M.
Thank you in advance, to those of you who generously take the time to leave feedback here. (And give yourself a little pat on the back, too - you will have just topped up your TpT credit balance!)
You Might Also Be Interested In:
☻☺Learning Buddies Starter Pack!
☻☺FREE Holiday Cards for Reading Buddies | Learning Buddies!
☻☺FREE Printable Valentine Cards for our Reading Buddies
☻☺FREE Thank you for being my Reading Buddy Card 
⭐Best-Sellers⭐
❤️The #DWF EVERYTHING Bundle! BEST VALUE! (all #DWF TpT products continuously added here!)</a>
❤️Dealing With Feelings 1st 7 Storybook Lessons
➪The Complete Personal Alphabet BUNDLE !
☀Kindergarten First Grade Alternative Reading Log
❤️Kindness Storybook lessons, bulletin board
CUSTOMER TIPS
How to get TPT credit to use on future purchases:
• Log in and go to your My Purchases page. Click the "Provide Feedback" button, where you will be linked to the page to leave a rating and short comment for the product.
Be the first to know about my new products, discounts and freebies:
• Look for the green star near the top of any page within my store and click it to become a follower. You will then receive email updates about ThatFunReadingTeacher on TpT!
Pop by for a visit on:
Report this resource to TPT