Buggy Stretchy Band Movement Activities for Music, P.E., Movement Classes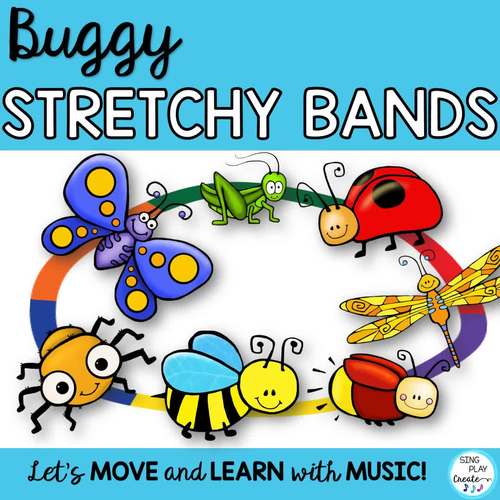 ;
What educators are saying
Easy to follow along and understand, got us using our new stretchy band right out of the bag! Thanks!
My students love the stretchy band, and this provided some nice additional activities for when the stretchy band is used in class. My PreK and K students especially loved these activities. Thank you!
Also included in
BUGGY MOVEMENT ACTIVITIES with Bean Bags, Scarves, Stretchy Bands and Movement Cards are perfect for springtime music class and preschool through 2nd grade activities. Picture your students stretching, bouncing, hopping, marching, twisting, wiggling, playing games, as they create, express and demons

Price $12.60

Original Price $14.00

Save $1.40
Description
BUGGY STRETCHY BAND ACTIVITIES are perfect for springtime movement activity time. Picture your students stretching, bouncing, hopping, marching, twisting, wiggling through your music and movement activities. Best for Preschool through 2nd grade ages.
RESOURCE INCLUDES:
8 Buggy Stretchy Band Activities in a power point presentation & PDF file
8 Buggy Stretchy Band Activities Flash Cards
Activity Directions
STRETCHY BAND ACTIVITIES:
ZIG AND ZAG
BOUNCING WORM
HOP ALONG
MARCHING ANTS
BEES KNEES
FLAP IN AND OUT
TWIST AND TURN
GIGGLE AND WIGGLE
USE THIS RESOURCE:
Music and movement activities- choose music to help students move high/low, fast/slow, short and long moves.
Connect Life Cycle and Science lesson with movement activities
Build Classroom Community
Transition Activity
Connect Movement with Learning
Develop Music Listening Skills
DEVELOPS SKILLS:
Cross Body (Cross the Midline) Movement
Gross Motor Movement
Fine Motor Movement
Listening
Team Building
HOME SCHOOL APPLICATIONS:
Give your children the chance to play games, learn to work together, take turns and develop their movement skills.
Connect nature with music and movement.
Perfect for your spring science lessons.
MORE CREATIVE MOVEMENT ACTIVITIES:
***********************
ABOUT SING PLAY CREATE LLC.
All products and works are copyrighted by Sing Play Create LLC. Buyers may get Free store credit by going to "my purchases" and click on "Provide Feedback". Ratings and helpful feedback are welcomed.
Want a Freebie every month?  Subscribe to my Website Newsletter.
QUESTIONS? Please use the "Ask a Question" section of my TpT store. Or, you can email me at sandra@singplaycreate.com
CONNECT WITH ME HERE:
Let's Move and Learn with Music!
Sandra
#stretchybands
#creativemovement
Report this resource to TPT