Build A Mystery Word Interactive Word Work Context Clues Vocabulary The Bundle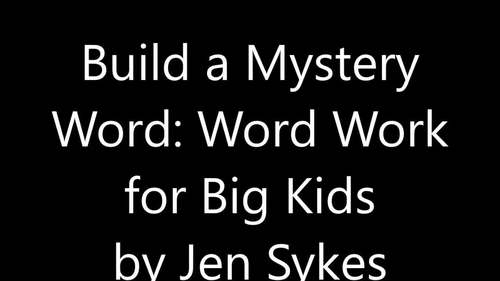 ;
Easel Activities Included
Some resources in this bundle include ready-to-use interactive activities that students can complete on any device. 
Easel by TPT is free to use!
Learn more
.
What educators are saying
My students absolutely love the Mystery Word activity - we use this with magnetic letters and trays. It's their favorite guided reading rotation!
This resources has worked great for my kiddos. They enjoy the different sections and always try to see who can come up with the most words.
Products in this Bundle (5)
Description
Need a challenging and engaging way to keep your Upper Elementary students working on words? The 30 Build A Mystery Word sheets in this bundle are a great way to get your students actively manipulating letters to create new words. Remember, Upper Elementary kiddos still need access to manipulatives, particularly when exploring the patterns letters use in the English language.
What is included:
My suggestion: do one sheet together so you can teach students your expectations, as the tasks remain the same throughout the year. The first task always asks students to cut out the letters and create as many words as possible. The second task requires students to use context clues. Make sure you have student dictionaries available for the third task! For the fourth task, students use their critical thinking skills to pick another letter to add to the collection, and challenges them to create new words based including the new letter.
These can be used for Work on Words activities during Daily 5, bell-ringer work as students arrive/depart, for early finishers, extensions, and enrichment. This activity can easily be led by a volunteer or paraprofessional, if needed. As always, I appreciate your comments, feedback, and support! If you have additional questions about this product, please feel free to contact me via email: hellomrssykes(at)gmail(dot)com or through my blog: www.HelloMrsSykes.com
*****************************************************************************
Upper Elementary Literacy resources
Academic Vocabulary Word Walls, Grades 2-6
Mystery Word of the Week, The Bundle (All Mystery Words included!)
Upper Elementary ELA Task Cards
*****************************************************************************
Want TPT credit to use on future purchases?
• Please go to your My Purchases page (you may need to login). Beside each purchase you'll see a Provide Feedback button. Simply click it and you will be taken to a page where you can give a quick rating and leave a short comment for the product. Each time you give feedback, TPT gives you feedback credits that you use to lower the cost of your future purchases. I value your feedback greatly. ☺
Be the first to know about my new discounts, freebies and product launches:
• Look for the green star next to my store logo and click it to become a follower so you will receive email updates about this store. ☺
*****************************************************************************
Thank you for looking! Jen Sykes, Hello Mrs Sykes
Report this resource to TPT
Standards
to see state-specific standards (only available in the US).
Use sentence-level context as a clue to the meaning of a word or phrase.
Consult reference materials (e.g., dictionaries, glossaries, thesauruses), both print and digital, to find the pronunciation and determine or clarify the precise meaning of key words and phrases.