Build A Story: Story Starters | Generation | Narrative Language | Story Grammar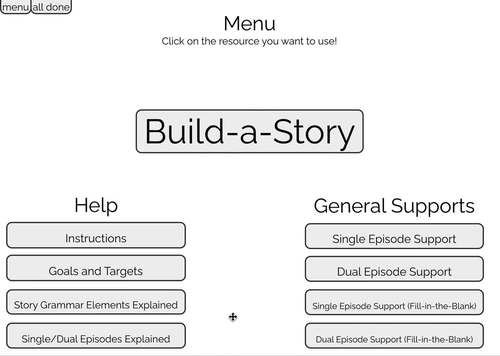 ;
What educators are saying
I love this resource!! A must have for elementary SLPs. Students are so engaged- they love choosing their own story scene. I also love the visuals and scaffolds that are provided. 10/10!
This was such a fun and versatile resource. I used it with students to practice articulation, sentence length, grammar and storytelling. It was fun hearing the creativity in the stories.
Description
Build-A-Story: Starters and Supports for Narrative Generation. Using story grammar visuals to generate stories!
This set is designed to help facilitate narrative production/generation. Most of this resource is designed to help facilitate fictional narrative generation; however, there are additional, general supports included that help to scaffold and facilitate other types of narrative generation, such as personal narrative generation.
**This resource would take hours and hours to preview completely. Take a look at the video preview to check out a little glimpse and demo!**
This resource includes:
41 single episode scene scaffolds + graphic organizers
41 dual episode scene scaffolds + graphic organizers
4 additional, general scaffolds to facilitate any narrative (single and dual narrative included)
Explanation of Story Grammar and Story Grammar Elements
Explanation of Single and Dual Episode Narrative
Suggestions for Use (Potential Goals and Targets)
Additional Features:
*Drag-and-drop icons + scenes to facilitate narrative generation and for story reenactment
*Graphic organizers with text boxes (easily collect language samples)
*Toggle back and forth between single and dual episodes
*Reusable (infinite possibilities)
*Variety of language target options/potential
Enjoy!
Are you looking for a fun, interactive NO PRINT, NO PREP distance learning activity to work on responding to a variety of language targets? Then you have found the right Boom Card deck!
They can be used on your computer, smart board, ipad and are teletherapy-compatible. When the student chooses an answer, they receive immediate feedback (visual and auditory) on their response.
►When you download this product, you will receive a PDF with a link to the bundle of digital task cards on the Boom Learning Site. Click where it indicates and it will take you to the Boom learning site.
More information on Boom Cards:
To use Boom Cards, you must be connected to the Internet. Boom Cards play on modern browsers (Chrome, Safari, Firefox, and Edge). Apps are available for Android, iPads, iPhones, and Kindle Fires. For security and privacy, adults must have a Boom Learning account to use and assign Boom Cards. You will be able to assign the Boom Cards you are buying with "Fast Pins," (play provides instant feedback for self-grading Boom Cards). Fast Play is always a free way for students to engage with Boom Cards decks. For additional assignment options you'll need a premium account. If you are new to Boom Learning, you will be offered a free trial of our premium account. Read here for details: http://bit.ly/BoomTrial.
Please consider leaving feedback so that I know how to improve my products!
#jan21slpsgodigital
#bye2020slpsale
#SLPsGoDigital
#distancelearning
#distancelearningtpt
#noprint
#teletherapy
#boomlearning
Report this resource to TPT