Build Your Own Paper Computer | Printable Technology Activity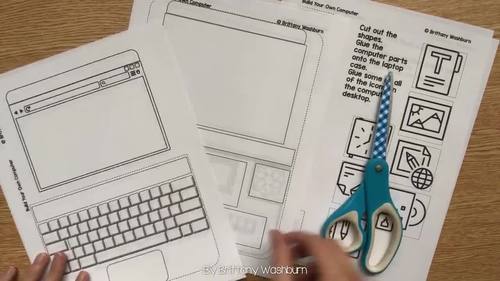 ;
Also included in
Both my Best Selling paper Build Your Own Computer and the paperless Digital Build Your Own Computer in one bundle! Please take a look at the preview for each file to see what is included. PAPER BYO COMPUTER: Your students are going to love learning about the parts of a computer while building their

Price $7.50

Original Price $9.00

Save $1.50

A full year of Kindergarten Technology Activities with a Pacing Guide. You can follow the guide or choose to complete the activities in any order you like. Please see the individual product descriptions to learn more about each included resources. This is a bundle of the Kindergarten resources from

Price $92.00

Original Price $138.99

Save $46.99

A full year of First Grade Technology Activities with a Pacing Guide. You can follow the guide or choose to complete the activities in any order you like. Please see the individual product descriptions to learn more about each included resources. This is a bundle of the 1st Grade resources from this

Price $79.20

Original Price $119.50

Save $40.30

A full year of K-5 Technology Activities with a Pacing Guide that will take the technology curriculum planning off your plate! Perfect for any elementary computer lab teacher. You can follow the guide or choose to complete the activities in any order you like. Please see the individual product descr

Price $493.20

Original Price $677.99

Save $184.79

Bundle of activities that can be used as stations for Kindergarten and 1st Grade students in the computer lab. Activity types include:•Mouse and trackpad practice on paper•Coloring pages to learn the parts of the computer•Digital activities to learn and review the computer parts•Paper keyboard pract

Price $82.94

Original Price $118.49

Save $35.55
Description
If you're looking for a fun paper activity to do during your computer science or STEM time, this is it! Your students are going to love learning about the parts of a computer while building their own on paper. These little laptops turn out so adorable you can't resist smiling when you see the finished products. Check out the preview to see everything that is included!
In addition to the lift-the-flaps laptop, there is a matching page with definitions of the computer parts for a little added academics.
Use the included pictures to guide you through putting the computer together, but know that it can also be totally customized to meet your needs. You can make it as simple (a coloring activity) or as complicated (learn and label the parts of a computer) as you need it to be. 
CLICK HERE FOR A DIGITAL OPTION
Table of Contents:
-1-4 Instructions
-5-6 Options for the laptop frame
-8-13 Options for the keyboard (blank or filled in, windows, chromebook, or mac layout)
-15-17 Icons pages (print the option that works best for you)
-18-19 Matching activity and answer key
Connect with other Technology Teachers:
If you're interested in connecting with other technology teachers, check out the Technology Teacher Tribe Group on Facebook.
Connect with me on social media!
Report this resource to TPT