Build - a - Burger Multiple Meaning Words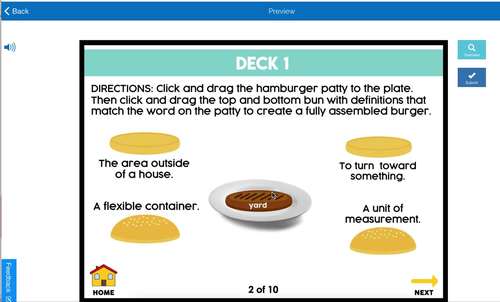 ;
What educators are saying
The hamburger is such a good idea as a visual for this concept. My students and I found it very helpful!
Description
Looking for a tasty way to work on multiple meaning words? Well then this activity is for you! Students will build their burger by matching word meanings to the correct word.
Includes:
- 40 Multiple Meaning Words
- 2 Definitions ( top bun and bottom bun ) for each word
- 4 Plate Mats
How to Play:
-Spread all burger top and bottom bun cards face up on the table and place all meat patty cards in a pile. give each student a plate page.
-Have a student choose a patty card. The multiple meaning word on the patty cards will have a matching top and bottom bun, so that a full burger is made.
-As students make multiple meaning burgers they can place them on their plates. The student with the most burgers at the end wins!
*** UPDATED FOR INTERVENTION USE 9/18/14 ***
- A screener with 10 items has been added to the packet that so this activity may be used for intervention purposes.
***NOW WITH BOOM CARD VERSION - activity cards only **
Report this resource to TPT