Building Relationships - Grades 3-5 - SEL - Lesson Plans, Journals & more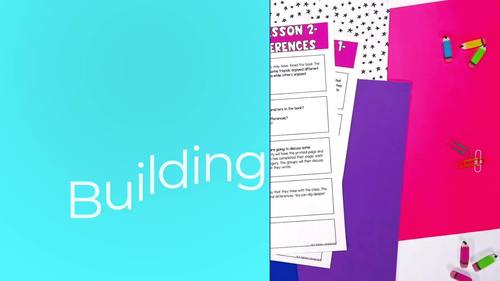 ;
What educators are saying
These are entertaining activities to help build relationships in the classroom. I really enjoyed it!
These are solid lessons to use at any point in the year but have fit in perfectly with our back-to-school norms. It sets up my year for positive relationships and teambuilding.
Description
Building relationships in your classroom is incredibly important to how your class is structured. When you build the relationships with students, you will have more collaboration among your class and students.
Lessons Included:
Week 1: Building Relationships
Commonalities
Overcoming Differences
Learning about a friend
Interests in Friends
Asking Questions
Week 2: Making Friends
5 Ways to Make friends
Talk to someone you don't know
Friends & Disagreements
2 sides of the story
Friends being important
Week 3: Collaboration & Teamwork
Define Collaboration & Teamwork
Hog vs. Log
How to Collaborate
How to be a good team player
Giving 100%
Week 4: Big Feelings
Identifying big feelings
Happiness
Sad
Angry/Frustration
Nervous
What is Included in this Resource?
20 detailed lessons. -Week long version and Daily version
Scope & Sequence
Included in the lessons: Introduction, Discussion, Daily Activity, and Conclusion
Weekly Picture Book related to the topic
Toolbox with strategies to support students new learning
20 Days of a Daily Journal
Bulletin Board (Interactive)
Anchor Charts
About this unit:
1. It should take about 20 school days (a month) to complete. You can complete each lesson in 15 minutes, however you can extend it if you want.
2. All discussion prompts are included and you have all of your material included in the unit.
3. All the planning for SEL time is done for you and there is a weekly overview of the lessons.
4. This does align with CASEL's SEL Competencies.
5. I would recommend this unit for 3rd-5th grade classrooms.
Relationship Skills:
Communicating effectively
Developing positive relationships
Demonstrating cultural competency
Practicing teamwork and collaborative problem-solving
Resolving conflicts constructively
Resisting negative social pressure
Showing leadership in groups
Seeking or offering support and help when needed
Standing up for the rights of others
From: CASEL
_____________________________________
Teachers like you said:
⭐️⭐️⭐️⭐️⭐️ This has been such a great resource as it targets so many SEL skills my students are working on! I loved how simple it was to incorporate into our daily lessons and routines. It's been so helpful!
⭐️⭐️⭐️⭐️⭐️ Our morning starts with family meeting and an SEL lesson. This resource helped me extend on my lessons beyond what our curriculum provided. This was a great place to go back to when I was stuck or needed something to supplement that days lesson.
⭐️⭐️⭐️⭐️⭐️SEL has been a big focus this year, and early on and during testing, my kids have struggled a bit with stress. This resource helped them develop strategies for managing stress, which will be so helpful as they move onto middle school.
_____________________________________
You may also like...
No Prep! Class Meetings - Morning Meetings - Grades 3-5
Self-Management - Grades 3-5 - SEL - Lesson Plans, Activities & more!
_____________________________________
Copyright © A Teacher's Wonderland, LLC.
All rights reserved by author.
Permission to copy for single classroom use only.
Please purchase additional licenses if you intend to share this product.
Teaching Duration
1 month
Report this resource to TPT