Bundle | Describe How Characters Respond to Major Events and Challenges | Slides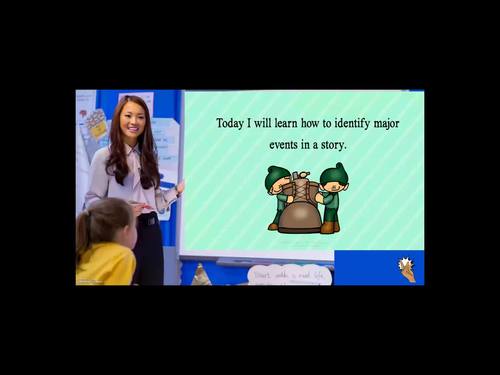 ;
Zip

Google Apps™
Includes Google Apps™
This bundle contains one or more resources with Google apps (e.g. docs, slides, etc.).
Products in this Bundle (4)
Also included in
This second grade literacy Google Slides™ and PowerPoints bundle is designed to provide you with a solid month of second grade common core reading literacy lessons and assessments around RL 1.1, RL 1.2, RL 1.3, RL 1.4, RL 1.5, RL 1.6, RL 2.1. , RL 2.2, RL 2.3, RL 2.4, RL 2.5, and RL 2.6. This bundl

Price $48.65

Original Price $69.50

Save $20.85
Description
Before students can describe how characters respond to major events and challenges, they need to understand a few things. This bundle includes slide presentations on identifying the main character, identifying character traits, identifying major events, and describing how characters respond to major events.. provides you with five days of reading lessons. The first four days include slide presentations that you may use for your minilessons on how characters respond to major events and challenges. The fifth day is included as a bonus for purchasing this bundle and is an assessment. The assessment is a perfect test of what your students have learned during the week.
For your convenience, you may access the slide presentations through either Google Slides or PowerPoint. The order of the slide presentations that I recommend is as follows:
Day 1 - Identifying the Main Character in a Story
Day 2 - Identifying Major Events in a Story
Day 3 - Identifying Character Traits
Day 4 - How Characters Respond to Major Events
Each day uses a story to illustrate the day's reading strategy. The stories included in the presentations include:
The Goose that Laid the Golden Egg
The Elves and the Shoemaker
Little Red Riding Hood
The Elves and the Shoemaker is Revisited

The Day 5 bonus of this bundle is the assessment.
This bundle also includes an exit slip for the first four lessons, which you can use to assess your students' understanding of the reading skill taught each day. Your students may use any book they are reading (or text that you are using) to answer the questions on the exit ticket.
Finally, there is an assessment included which can be given on Day 5 to assess your students' understanding of this common core standard. Each PowerPoint includes a text that students can use to practice the reading skill that is being taught. This is a comprehensive bundle that will meet all of your needs for RL 1.3 & 2.3, TEKS.LA.1.8.B, TEKS.LA.2.8.B, VA SOL.R.2.7.d, VA SOL.R.1.9.f. "Describe how characters in a story respond to major events and challenges"
***This product is contained in a ZIP file. Please do not purchase this product if you do not have the capability to open this type of file.***
*****************************************************************************
You May Also Like
RL 1.2 & 2.2 Bundle: Recount Stories and Determine their Central Message
RL 1.1 & 2.1 Bundle: Learning How To Ask Questions to Identify Key Details and Main Idea
Davy Crockett - Understanding Folk Tales and Create Your Own Pop-Up Book
*****************************************************************************
Customer Tips:
How to get TPT credit to use on future purchases:
• Please go to your My Purchases page (you may need to log in). Beside each purchase, you'll see a Provide Feedback button. Simply click it and you will be taken to a page where you can give a quick rating and leave a short comment on the product. Each time you give feedback, TPT gives you feedback credits that you use to lower the cost of your future purchases. I value your feedback greatly as it helps me determine which products are most valuable for your classroom so I can create more for you. ☺
Be the first to know about my new discounts, freebies, and product launches:
• Look for the green star next to my store logo and click it to become a follower. Voila! You will now receive email updates about this store. ☺
4289975
Report this resource to TPT
Standards
to see state-specific standards (only available in the US).
Describe characters, settings, and major events in a story, using key details.
Describe how characters in a story respond to major events and challenges.