Burger Flip Basic Multiplication Fact Practice Flash Cards Game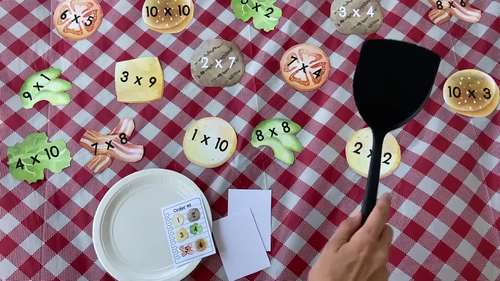 ;
What educators are saying
This is a fun and engaging way to practice multiplication facts. I used it as a station and my class loved it!
Also included in
This multiplication math unit includes 12 easy to teach lessons that cover fourth grade common core multiplication standards (CCSS). Skills include multiplying 2, 3, and 4 digit numbers by 1 digit numbers and multiplying two 2 digit numbers together using multiple strategies (partial products "box m

Price $21.00

Original Price $30.00

Save $9.00

This year long fourth grade math bundle includes 132 math lessons spanning 11 different units. All lessons are common core aligned and cover all CCSS standards required for 4th grade math!Begin with each unit guide (these are free and linked below!). The lesson plans will walk you through each unit

Price $196.00

Original Price $392.00

Save $196.00
Description
In this exciting flash card game, students practice basic multiplication facts to make burgers! To fill each customer order, students solve the multiplication fact on each ingredient and then flip it using a spatula to check their answers. If correct, they collect the ingredients and assemble the burgers on a plate. This hands-on practice activity is way more fun than flash cards. It's sure to be a favorite in your classroom!
This resource includes:
instructions with three different ways to play (or come up with your own version!)
burger ingredients with 96 multiplication facts (1's through 10's)
27 order cards with special burger orders for students to assemble.

Check out the preview file or video for a full look at this fun resource.
Please follow my store here for more great resources!
You can also find me on Facebook, Instagram, and lafountaineofknowledge.com where you'll discover ideas, inspiration, and plenty of freebies! Or join my email list to get a monthly newsletter with exclusive FREE resources you can't get anywhere else!
Want free money to spend on Teachers Pay Teachers? Rate this product to earn some TpT credit! Leaving feedback helps us both out and takes less than a minute! Your support makes it possible for me to continue making and sharing great resources! Thank you!
Credits: Clip art was created by and used with permission. Fonts used include Londrina Solid and Londrina Sketch by Marcelo Magalhães, Pangolin by Kevin Burke, and  Crafty Girls and Chelsea Market by Tart Workshop. All fonts were used with permission under open source licenses.
Teaching Duration
30 minutes
Report this resource to TPT
Standards
to see state-specific standards (only available in the US).
Interpret products of whole numbers, e.g., interpret 5 × 7 as the total number of objects in 5 groups of 7 objects each. For example, describe a context in which a total number of objects can be expressed as 5 × 7.
Use multiplication and division within 100 to solve word problems in situations involving equal groups, arrays, and measurement quantities, e.g., by using drawings and equations with a symbol for the unknown number to represent the problem.
Fluently multiply and divide within 100, using strategies such as the relationship between multiplication and division (e.g., knowing that 8 × 5 = 40, one knows 40 ÷ 5 = 8) or properties of operations. By the end of Grade 3, know from memory all products of two one-digit numbers.
Interpret a multiplication equation as a comparison, e.g., interpret 35 = 5 × 7 as a statement that 35 is 5 times as many as 7 and 7 times as many as 5. Represent verbal statements of multiplicative comparisons as multiplication equations.
Multiply or divide to solve word problems involving multiplicative comparison, e.g., by using drawings and equations with a symbol for the unknown number to represent the problem, distinguishing multiplicative comparison from additive comparison.