Burned-In Teacher Time Management Worksheet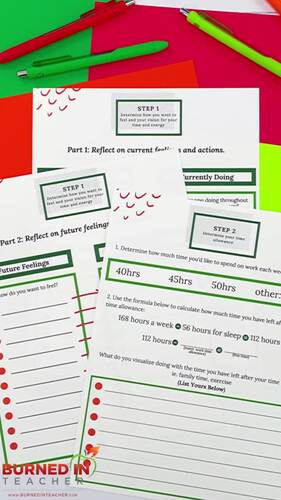 ;
What educators are saying
This is just what I needed to help organize my week and day! I feel like I am getting so much time back!
Also included in
This is the perfect starter kit for overwhelmed and stressed-out teachers to manage their burnout and learn how to create a healthy work-life balance. When you're Burned and Unbalanced, you may be overwhelmed to the point of shutting down and looking for ways to manage a large workload.  This bundle

Price $8.10

Original Price $9.00

Save $0.90
Description
How to manage time as a teacher is something that seems nearly impossible and creates a lack of balance in your life that can contribute to teacher burnout.  In this Teacher Time Management Worksheet, I'll teach you how to manage your time so you not only have enough time to tackle your to-do list at school but also have time to do the things that bring you joy outside of school. This Teacher Time Management Worksheet will show you how to manage your time as a teacher by providing you with a system to find and create a balance between your professional and personal life so you can live a happier, more fulfilled life. 
With this product you will: 
Learn how to create your time allowance
Get resources to find out how to budget your time allowance
Create efficiency in tackling your to-do list by batching/blocking your tasks
What's included in this product: 
A step-by-step guide to determining your time allowance
Planning sheets to help you budget your time allowance
Your guide to batching/blocking your to-do list
Check out this companion resource →
Please email me with any questions at
Thank you for supporting my store,
Amber Harper | BURNED-IN Teacher
If you love this product, please leave a product review! THANKS!
Report this resource to TPT