Butterfly Life Cycle | Writing & Observation Journals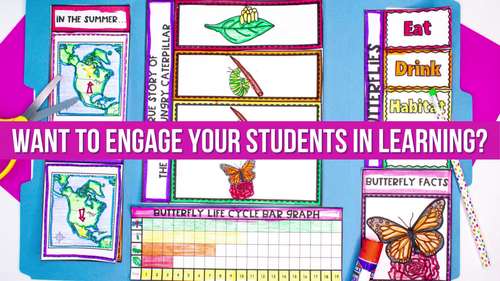 ;
What educators are saying
This resource was amazing for our butterfly life cycle unit. The lap books worked perfectly, and my students loved them! Such an interactive and engaging resource!
Wow! So much to choose from in this resource! I bought it to supplement my butterfly unit and ended up using it as the main instructional piece. Thank you!
Description
Butterfly life cycle - Integrate science, math, reading, and writing all in this AMAZING unit. This highly engaging lap book is jam-packed with interactive, easy-to-cut pieces! I've included so much to give you a comprehensive unit!
11 easy-to-cut interactive pieces
Instructions with pictures and tips
5E lesson plan that will take you through your unit
4 QR codes for students to explore
25 vocabulary cards with vocabulary games
Butterfly Life Cycle Observation Journal
In summary, students will:
recognize that butterflies experience a life cycle called complete metamorphosis
summarize the life cycle of a butterfly including birth, developing, reproducing, and aging, and death
compare the life cycle of different animals using real data from the butterfly
You may also like some of my similar products!
Get connected with me!
It PAYS to follow Simply STEAM! All Simply STEAM resources are discounted at 50% off for the first 24 hours. Click the star to get your discounts!
Don't forget to provide your feedback for your FREE TpT credits!
Teaching Duration
1 month
Report this resource to TPT
Standards
to see state-specific standards (only available in the US).
Organize, represent, and interpret data with up to three categories; ask and answer questions about the total number of data points, how many in each category, and how many more or less are in one category than in another.
Draw a picture graph and a bar graph (with single-unit scale) to represent a data set with up to four categories. Solve simple put-together, take-apart, and compare problems using information presented in a bar graph.
Compare and contrast the adventures and experiences of characters in stories.
Acknowledge differences in the points of view of characters, including by speaking in a different voice for each character when reading dialogue aloud.
Write informative/explanatory texts in which they name a topic, supply some facts about the topic, and provide some sense of closure.