CALM CORNER KIT: Classroom Behavior Management Mindfulness Skills & Coping Tools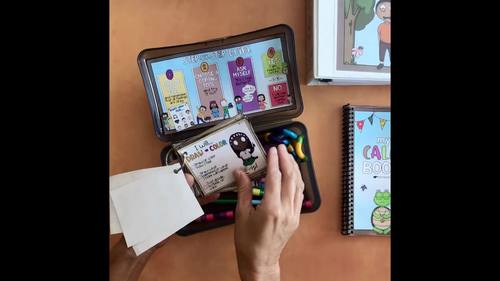 ;
Zip

Google Apps™

Internet Activities
Includes Google Apps™
The Teacher-Author indicated this resource includes assets from Google Workspace (e.g. docs, slides, etc.).
What educators are saying
As a counselor these books are so great. The different sizes make it so easy to build this in to teachers classrooms or in individual student toolbox. Overall 10 out of 10!
What an amazingly, comprehensive resource! As a school counselor I often work with students who have big feelings and need help navigating them - this does that VERY well!
Also included in
Save tons of planning time and get your students excited about social emotional learning with WholeHearted's Storewide Growing Bundle! Grab over 140 effective and fun counseling and SEL activities and lessons at 50% off. And help your students to build healthy social emotional skills, such as self

Price $279.00

Original Price $548.00

Save $269.00

This social emotional learning mega bundle contains many of WholeHearted School Counseling's SEL games and activities to help children learn, practice, and develop coping skills, self-regulation, social skills, and self-esteem. This SEL Bundle contains some of WholeHearted's top selling resources.

Price $185.00

Original Price $301.25

Save $116.25

The Calm Classroom Bundle provides a great foundation to create a trauma sensitive classroom integrated with social emotional learning. Focusing on prevention and emotion regulation, the calming activities in this bundle can help with classroom management. Works for small groups, individual counse

Price $31.25

Original Price $55.25

Save $24.00

Price $55.00

Original Price $101.50

Save $46.50
Description
The Calm Kids Activity Book is a low-prep personal Calm Corner Kit with over 100 interventions and exercises that promote self-awareness, mindfulness, emotion regulation, and social emotional learning, while helping you with classroom management.
For SEL distance learning, share the no-prep Digital Calm Kids Activity Book on Google Slides™ with your students to use at home.
For face-to-face, in-school learning, the printable coping tools kit is so easy to prepare that you can make individual copies for each student to keep at their desk...so you don't have to worry about sanitizing between each use.
With so many interventions and exercises, it's also the perfect kit for school counselors to use with individual students and small groups. Families, it's also a fun "boredom buster" for kids, too!
WHAT'S INCLUDED
Digital
The NO-PREP Calm Kids Activity Book on Google Slides™ contains over 160 interactive pages. Includes narrated videos with music, digital timer, fill in the blank, and drag and drop activities.
Printable
3 different sizes of the Calm Kids Activity Book.

The 8.5" x 11" option is designed to fit inside of a 3 ring binder. 
The medium and mini sizes are designed to fit inside of plastic pencil boxes Just add colored pencils, a timer, stress ball or other calming tools and you have an instant personal Calm Box on the go.
Comes in both color and black and white printable options.
Binder spine label and tabs to organize the 8.5" x 11" Calm Kids Activity Book
Cover and reference guide labels designed to fit on plastic pencil boxes to create Calm Box Kits.
And the Activities Are (Grouped by Coping Tool).....
DRAW OR COLOR: Draw or color how I feel, Draw what I wish for and hope will happen,
Draw something that makes me smile or laugh, Just doodle or scribble, Draw what happened, Color a coloring page
EXERCISE, STRETCH or DO YOGA: Run, do jumping jacks, or do squats, Ask if I can go on a short walk, Do cross crawls, Do yoga, Play sports or another fun moving game
Stretch
DO A BREATHING EXERCISE: Use a Breathing Board, Bubble Breath, Hot Cocoa,
Roller Coaster, Hummingbird Breathing, Elevator Breathing
FOCUS ON THE GOOD: List what I am grateful for, Send a Heart Wish, Remind myself of my strengths, Look for the bright side of things, Focus on what I have control over,
Make a plan to reach my goals
CONNECT WITH NATURE: Take a mindful walk outdoors, Go on a nature treasure hunt, Watch the clouds, Imagine and/or draw a peaceful place in nature, Ocean Wave Breathing, Play outside
TALK ABOUT IT: Use I-Statements to talk about my feelings, Say what I need, Secret Hand Signal, Talk to someone that I trust, Talk it out to resolve a conflict,
Fill out a form to request a time to talk
JOURNAL OR WRITE A LETTER, Write about my thoughts & feelings, Write about my hopes, goals and wishes, Brainstorm solutions for a problem I am having,
Write a letter to thank someone, Write an apology letter, Write a letter to someone I love and/or miss
DO SOMETHING KIND AND HELPFUL: Do something kind, Volunteer to do a chore,
Make a plan to help others, Do something to take care of the earth, Give out a kindness coupon, Compliment someone
USE POSITIVE SELF-TALK: Use a positive affirmation, Hand Over Heart, Use a coping statement, Make a strength bracelet, Turn a negative thought into a helpful thought,
Practice my power pose
TAKE A BREAK: Use a break card and/or timer, Get a drink of water, Just stop, breathe, then choose what to do, Take a mini-movement break, Imagine a peaceful place
Count to 10
READ OR LOOK AT HAPPY PICTURES: Read something interesting, Look at peaceful photos, Read about fun facts, Learn some new jokes, Look at cute animal pictures,
Make a calming collage
TIGHTEN THEN RELAX MY MUSCLES: Chair or wall push-ups, The Boat, Rocks and Socks, Palm Presses, Arm and Shoulder Massage, Hug it out
USE A FIDGET: Use a helpful calming tool, Piano Fingers, Doodle, Use headphones, Finger Pulls, Flexible seating
BUILD SOMETHING OR SOLVE A PUZZLE: Build or invent something,
Picture puzzle, Spot the difference puzzle,Jigsaw puzzle Word puzzle, Mazes
DO A MINDFULNESS EXERCISE: Notice how my body feels, Listen to my emotions,
5-4-3-2-1 Grounding, Find a rainbow, Focus on just one thing, Energy sphere
Report this resource to TPT