CALM DOWN CORNER: Classroom Management Social Emotional Learning Coping Tools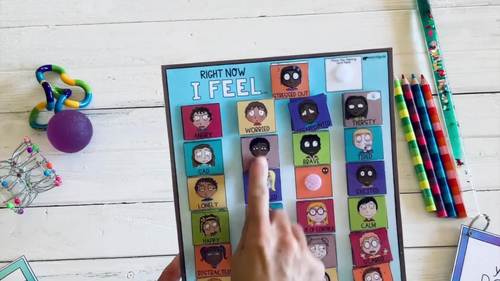 ;
What educators are saying
This is something that all classrooms need to have. It is perfect to allow students to feel their feelings and calm them down without disruptions, plus it was easy to create.
This is an amazing resource. It has so many ways to help my students learn how to regulate and to find regulation when they're upset. I have even used it at home with my own kids! Thank you!
Also included in
This Self-Regulation Coping Skills Bundle will help to teach young people coping skills and self-regulation strategies. This coping skills toolkit is perfect for your SEL (Social Emotional Learning) Curriculum, Trauma Sensitive Classrooms, Calm Corner, individual and group counseling sessions, and

Price $28.00

Original Price $50.25

Save $22.25

Save tons of planning time and get your students excited about social emotional learning with WholeHearted's Storewide Growing Bundle! Grab over 140 effective and fun counseling and SEL activities and lessons at 50% off. And help your students to build healthy social emotional skills, such as self

Price $279.00

Original Price $548.00

Save $269.00

This social emotional learning mega bundle contains many of WholeHearted School Counseling's SEL games and activities to help children learn, practice, and develop coping skills, self-regulation, social skills, and self-esteem. This SEL Bundle contains some of WholeHearted's top selling resources.

Price $185.00

Original Price $301.25

Save $116.25

What's in this Coping Tools Bundle: Classroom YogaKids Coping Skills: Stress Management SEL Distance LearningDigital Animated Breathing ExercisesSelf-Regulation Coping Skills & Social Emotional Learning BookMindfulness Breathing Exercises for KidsPortable Calm CornerCalm Down CornerDigital Calm

Price $33.00

Original Price $56.25

Save $23.25
Description
Our Calm Down Corner kit has EVERYTHING you need to help your students with self-regulation, and will be a true game changer for your classroom management. It's the perfect social emotional learning and behavior management tool that's essential for every elementary classroom! You'll be able to create a beautiful break space where students can independently use coping strategies to self-regulate and manage their big feelings. All the while reducing classroom disruptions, making it easier for you teach!
With strong visual supports, our calm corner kit guides students to identify their emotions, choose a calming tool, and get ready to learn, focus, and get along with others.
It's an effective SEL trauma sensitive behavior intervention and excellent alternative to clip charts. Used in over 23,000 classrooms, homes & counseling offices.
⭐️ ⭐️ Click on the VIDEO and PREVIEW to see what you'll get! ⭐️ ⭐️
WHAT'S INCLUDED
Everything you need to create your Calm Corner in your classroom, office, or home (with the exception of sensory tools).
Calm Corner Signs (with 10 different name choices and 3 different styles)
Rules Sign (using trauma informed language, 3 styles)
Extensive User's Guide and Description of How Each Coping Skill Helps
"I Need a Break" Cards (3 styles)
Calm Box Labels (6 styles)
Coping Skills, Feelings, and Gratitude Posters / Decor (Multiple Styles)
Coping Skills Checklist
Feelings & Coping Skills Check-In / Check-Out Form
Coping Tools Task Cards
Interactive Breathing Boards
Feel-Good Pictures (composed of funny & cute animal photos)
6 Puzzles (with positive messages)
17 Yoga Poses
26 Animal Strength Cards
26 Positive Affirmation Cards and Posters
26 Gratitude Task Cards, Checklist and 2 Worksheets
Over 50 Coloring Pages
"I Wish My Teacher Knew" Form
"I Need" Choice Board and checklists
8 Journal Writing Prompts plus Journal Template
8 Letter Writing Prompts plus Letter Template
11 My Happy Place and Memories Task Cards
Breathe and Be With My Feelings Interactive Lap Book, which includes 25 Physical Sensations Identification Board
Interactive Feelings Check-In and Coping Tools Wall Display
Feelings Choice Board, Poster, and Slider
Coping Tools Choice Board
PLUS, all resources come in Color and Black/White printing options, too!
WHAT EDUCATORS ARE SAYING
"If I could give this an A++++ I would! I haven't seen such a comprehensive, all encompassing, ready to go Cool Down Corner resource such as this! Thank you so much for all of the options and resources included!"
"There are not enough words to say how amazing this resource is. I went through a ton of options before I bought this product but it was the best this I have ever purchased on this website. This is so well thought out and organized. You can tell the creator really understand childhood development and feelings. I love that there are resources to help kids identify their feelings. There are also ways for the kids to ask for help from the teacher. This whole thing is amazing. I love that there are different color schemes to match your room and ideals. The activities are also differentiated. WholeHearted School Counseling could sell this for 20 or more dollars and it would still be worth the price. Get it while you can!"
This is something that all classrooms need to have. It is perfect to allow students to feel their feelings and calm them down without disruptions, plus it was easy to create.
So many great tools to help my students who struggle to both self-manage and communicate. The TACTILE and illustrative nature of many of these resources is very helpful!
COMMON QUESTIONS and ANSWERS
What calming strategies are included?
Draw, Color, Exercise, Build Something, Do a Puzzle, Squeeze Then Relax My Muscles (like Rocks and Socks), Ask for Help, Stretch, Do Yoga, Gratitude, Think of a Happy Memory or Place, Reed a Book, Look at Feel-Good Pictures, 4 Interactive Breathing Boards, Push Against the Wall, Ocean Wave Breathing, Give Self or Stuffed Animal a Hug, Take Slow Breaths and Sit with Feelings, Get a Drink of Water, Help Someone, Do a Chore, Use Positive Self-Talk, Roller Coaster Breathing (also known as 5 Finger Breathing), Use a Sensory Tool, Journal, Write a Letter, Identify Feelings, Use Animal Strength Cards,
What feelings are included?
Angry, Sad, Lonely, Happy, Distracted, Confused, Silly, Worried, Sick, Surprised, Bored, Safe, Annoyed, Hungry, Disappointed, Brave, Stressed Out, Out of Control, Shy, Embarrassed, Hurt, Thirsty, Tired, Excited, Calm, Scared, Anxious, Hopeful
What names are included for this Center or Space?
Calm Corner, Calming Corner, Calm Down Corner, Cool Off Corner, Peace Corner, Quiet Corner, Rest and Return, Take a Break Station, Safe Zone, Zen Zone
How Can This Calm Corner Help Me Create a Trauma Sensitive Classroom?
More and more we are learning about the vital importance of cultivating trauma sensitive classrooms and schools. Kids need to feel safe, cared for and seen before they are ready to learn and get along with others. Warrior educators like yourself understand this... and this is why we are seeing a movement to implement safe spaces, like Calm Corners in classrooms.
Teaching children self-regulation coping tools helps the thinking part of their brain, the pre-fontal cortex, to get back on track when big emotions -which are adaptive and there for very good reasons- make it hard for kids to engage in school tasks. Many of our students need extra support in this area, often coming to school already in a reactive state of fear, worry & chronic stress. Until we help students manage and relate-with kindness & compassion-to these challenging emotional experiences, they will not be ready to learn the academic tools that students need to be successful in and out of school.
Can Families Use This Calming Corner Kit At Home?
Yes!

What Other Counseling, Wellness, or Social Emotional Learning Resources Do You Recommend to Help My Students or Children Regulate Their Emotions?
___________________________________
Learn about sales, freebies & new resources (that are always 50% off the first 48 hours!):
___________________________________
Earn TPT credit to Use on Future Purchases:
Visit your My Purchases page.
Click on the Provide Feedback button for any Paid Resources.
Leave a short comment and rating.
___________________________________
Need Help With Your Files?
Visit the FAQs section
Contact TpT Tech Support and submit a help ticket
Ask WholeHearted School Counseling™ a question via the Q& A tab
___________________________________
Terms of Use
This resource was created by WholeHearted School Counseling™, all rights reserved. When you purchase a license, it may be used for your personal single classroom, counseling office, or home use only. If you would like to share this product with other teachers, counselors, staff, or administration, please either refer them to WholeHearted School Counseling's™ store or purchase an additional license for each adult use. You can read more details about copyright and terms of use here.
Thank you for respecting the Copyright and Terms of Use boundaries. Take good, kind care of yourself. ❤️
Report this resource to TPT