CER Claim Evidence Reasoning Posters and Worksheets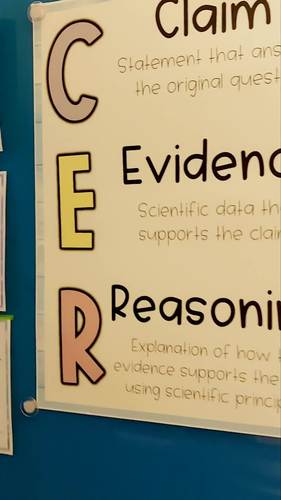 ;
Zip

Google Apps™
24 printable pages plus digital Google Slides companion
Includes Google Apps™
The Teacher-Author indicated this resource includes assets from Google Workspace (e.g. docs, slides, etc.).
What educators are saying
I have looked for a way to explain CER to my students and everything I found still confused them. This is a great resource for explanation.
This resource is perfect for teaching students how to write scientific arguments with evidence. It pairs nicely with my adopted science curriculum.
Also included in
Introduce and reinforce the CER strategy with your science students using the bundle of print and digital materials. These lessons will walk you through introducing the claim, evidence, and reasoning method to your students to help clarify, think critically, and explain their scientific reasoning to

Price $6.25

Original Price $8.00

Save $1.75
Description
Are you trying to implement CER into your science classroom and unsure where to start? These claim, evidence, reasoning materials will walk you through introducing CER to your students using teacher tips pages, ideas for practicing with your students, student reference sheets, scaffolded classroom decor posters, a graphic organizer, and a rubric to assess student writing.
Are you looking for more practice writing CER responses? Check out this resource that includes ten student activities. Click here to learn more.
Students will be able to:
Demonstrate their knowledge of scientific principles through crafted writing responses
Utilize the claim, evidence, reasoning formula to summarize their understanding of science activities, classroom discussions, and real-life scenarios
CER resources include:
Teacher tips pages: Explanation of how to implement this writing strategy in your science classroom
Classroom poster: Claim, evidence, reasoning poster sized at 18" x 24" (Directions to print 8.5" x 11" posters to a larger size)
Scaffolded posters: Various posters sized at 8.5" x 11" which include the terms claim, evidence, reasoning as well as a definition and examples
Formula poster: Sized at 8.5" x 11" will walk students through writing a thorough response.
Practice examples: Ideas to use 5 real-life examples with your students
Student reference sheets: Perfect to put in a student science notebook
Student graphic organizer: Use with students as they are learning about the strategy or hand out to struggling students who need a differentiated approach
Digital Google Slides version of the organizers and examples
Rubric: Assess student responses using the rubric
How to use the CER Writing strategy in your classroom:
Introduce this strategy on the first days of school. Instructions are included to teach you how to do this.
Strengthen student analysis and writing skills using this strategy while working on hands on activities and labs.
Assessment to demonstrate understanding of science concepts.
Teacher feedback:
This resource is perfect for teaching students how to write scientific arguments with evidence. It pairs nicely with my adopted science curriculum.
My students used this as an individual anchor to refer to when using the CER writing in Science. My students and I found this resource helpful, especially for students who are new to this strategy. Several of them kept referring back to the chart to check their responses.
Of all the CER products I looked at, this one seemed to be the most thorough.
There were some helpful tips on how to start teaching CER. I liked the suggested videos to help students get better at applying CER to daily situations.
I love that this resource provides multiple ways to use the material, and it is very clear! It lines up perfectly with what I'm currently teaching, and there is a rubric!!
This resource will help your NGSS aligned units.
Science units you might be interested in:
Kindly Note: If you have questions, do not hesitate to email me at Teaching Muse Email
PLEASE PREVIEW BEFORE PURCHASING
__________________________________________________________________
Thank you for visiting Teaching Muse. I would love for you to become a follower. 
Teaching Muse followers receive new product information and discounts on any new items!
__________________________________________________________________
All rights reserved by Teaching Muse. This product is to be used by the original downloader ONLY. Copying for more than one teacher, classroom, department, school, or school system is prohibited. Additionally, this product may not be distributed or displayed digitally for public view. Failure to comply is a copyright infringement and a violation of the Digital Millennium Copyright Act (DMCA). They are intended for classroom and personal use ONLY.
Total Pages
24 printable pages plus digital Google Slides companion
Teaching Duration
Lifelong tool
Report this resource to TPT
Standards
to see state-specific standards (only available in the US).
Cite specific textual evidence to support analysis of science and technical texts.
Determine the central ideas or conclusions of a text; provide an accurate summary of the text distinct from prior knowledge or opinions.
Introduce claim(s) about a topic or issue, acknowledge and distinguish the claim(s) from alternate or opposing claims, and organize the reasons and evidence logically.
Support claim(s) with logical reasoning and relevant, accurate data and evidence that demonstrate an understanding of the topic or text, using credible sources.
Provide a concluding statement or section that follows from and supports the argument presented.