CHRISTMAS SONG ANALYSIS [ASSIGNMENTS & PROJECTS] [MIDDLE & HIGH SCHOOL EDITION]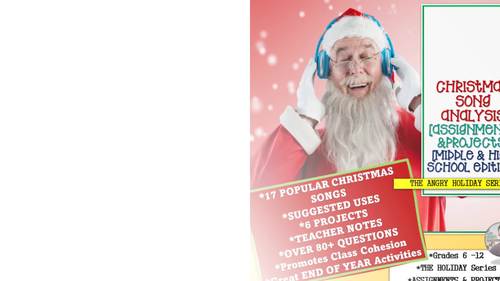 ;
Description
Are you stumped about what to do with students for the week(s) prior to the Winter Break? Don't worry about it! Let them analyze Christmas/Holiday music!
The Christmas Song Analysis& Projects product for middle and high schoolers dispels the end of year chaos for you and adds excitement for them.
This product has 6 PROJECTS and assignments, 17 songs with videos, lyrics provided to display on your Promethean OR for annotations, worksheets for the songs in the product, and a general set of questions for you to tailor to your situation. Check this out!
This PRODUCT Includes:
1. 17 Christmas/Holiday Songs and videos
[GREAT for a Bell Ringer/EXIT TICKET a Day for 2 weeks]
2. Over 80+ Discussion Questions,
3. 6 Projects/Assignments
4. 17 Worksheets for the songs provided
5. Variety of Genres
6. Black & White versions
7. LYRICS for each song provided in 2 forms
1. Mariah Carey's "All I Want for Christmas is You"
2. The Jackson 5's "Give Love on Christmas Day"
3. Jose Feliciano's "Feliz Navidad"
4. Wham!'s "Last Christmas"
5. Orion's Reign's "Deck the Halls"
6. Justin Beiber's "Mistletoe"
7. Natalie Cole's "My Grown-Up Christmas List"
and 10 other Popular songs
You may also appreciate:
THE CHRISTMAS/HOLIDAY PROJECTS & DISCUSSIONS
SECONDARY GET-TO-KNOW-YOU YEAR-ROUND BINGO AND GAMES
T.P. - C.A.S.T.T. [MNEMONIC GRAPHIC ORGANIZER]
ONE THOUSAND DOLLARS [LESSON ACTIVITIES]
THE SON FROM AMERICA [LESSON ACTIVITIES]
FIND ME ON THESE SOCIAL MEDIA PLATFORMS:
TheAngryTeacherBLOG
Hey guys,
I'm Richard Williams, The Angry Teacher. I've been teaching for 18+ Years , and have amassed quite a bit of knowledge to share. Please consider joining the Angry Teacher family; we'll enjoy having you in the fam!
Please consider checking out the other short story materials and resources in my store.
Also, guys, remember that leaving REVIEWS is a way that TpT gives you credit on products! So let's do it!
Thanks for stopping by!
Teaching Duration
2 Weeks
Report this resource to TPT
Standards
to see state-specific standards (only available in the US).
Cite the textual evidence that most strongly supports an analysis of what the text says explicitly as well as inferences drawn from the text.
Determine a theme or central idea of a text and analyze its development over the course of the text, including its relationship to the characters, setting, and plot; provide an objective summary of the text.
Analyze how particular lines of dialogue or incidents in a story or drama propel the action, reveal aspects of a character, or provoke a decision.
Determine the meaning of words and phrases as they are used in a text, including figurative and connotative meanings; analyze the impact of specific word choices on meaning and tone, including analogies or allusions to other texts.
Analyze how differences in the points of view of the characters and the audience or reader (e.g., created through the use of dramatic irony) create such effects as suspense or humor.