CIVICS Picture Puzzle Unit Review, Study Guide, Test Prep BUNDLE (Government)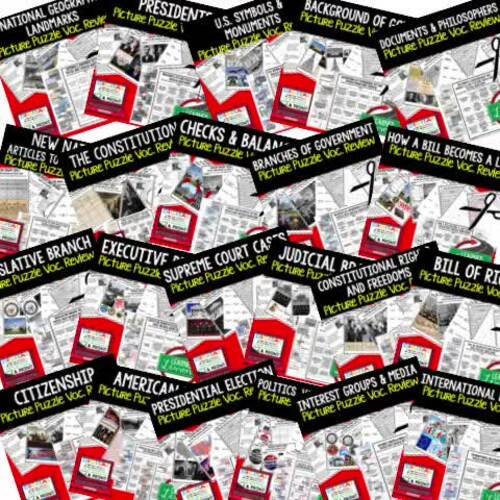 ;
Zip

Google Apps™
200 pages, 21 topics, Digital Links
Includes Google Apps™
This bundle contains one or more resources with Google apps (e.g. docs, slides, etc.).
What educators are saying
This was a great resource for reviewing. It allowed students to work together and then check their answers. I purchased several because they were a big hit in my classes.
Products in this Bundle (23)
showing 1-5 of 23 products
Bonus
Google and Dropbox Links Easy Planning Sheet
Description
Civics and Government Vocabulary Activity Picture Puzzle Unit Review, Study Guide, Test Prep BUNDLE (Government), with Google Slide Link for Digital Distance Learning
Civics Test Prep, Civics Test Review, Civics Study Guide, Civics Interactive Notebook Inserts
This Picture Puzzle Unit Review is a new and engaging way to create a quick reference study guide, conduct test prep, or just give students an opportunity to review key concepts throughout a unit in an engaging manner. Students will answer questions pertaining to the unit using answers printed on the back of easy to cut out square puzzle pieces. These answers will be placed on their unit review page and then the puzzle pieces will be placed on corresponding grid to revel a picture pertaining to the unit. Students will then use the review answers, the picture revealed, and their knowledge to complete a writing prompt. A google slide version is also included. This is also part of a CIVICS MEGA BUNDLE!
This unit includes links to engaging resource in Dropbox and Google Format as well as direct PDF downloads.
Sign up for and follow me on .
Includes 21 Units with the following:
Ways to Use PICTURE PUZZLES
Unit Review- Use to review the content at the end of the unit.
ELL and ESS Students- Use with ELL and ESS students for a hands-on approach to learning and to hit key vocabulary and concepts.
Center Based Learning- Use as an activity in a center.
Study Guide- Perfect as a quick reference study guide, reference sheet and/or review packet.
Substitute "No Prep" Activity- Leave as a unit review activity when you have a substitute, there is little prep and students will be engaged.
Digital Link- Share with students via Google Classroom or download as interactive PowerPoint to share.
Click Here to FOLLOW and GET Updates when NEW RESOURCES ARE ADDED
Links to all MEGA BUNDLES
Other Resources to Check Out:
CIVICS PAGE
US HISTORY PAGE
GENERAL RESOURCE PAGE
ELA & WRITING PAGE
PHYSICAL SCIENCE PAGE
PHYSICAL SCIENCE RESOURCE PAGE
EARTH SCIENCE PAGE
LIFE SCIENCE PAGE
WORLD HISTORY PAGE
GEOGRAPHY PAGE
LOUISIANA HISTORY PAGE
CLIPART RESOURCE PAGE
learnedlessonstpt@gmail.com
Thank you for your support! --Learned Lessons
Leaned Lessons Teaching Material
learnedlessonstpt@gmail.com
#TPTDIGITAL #TPTTECH Google, 1:1, Digital
Total Pages
200 pages, 21 topics, Digital Links
Report this resource to TPT