COMPLETE Fractured Fairy Tale Writing Unit!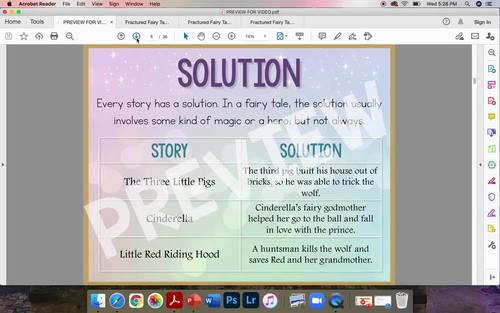 ;
What educators are saying
I loved this whole resource. We used it throughout the entire fairytale unit and my students were engaged throughout. Thanks!
This is by far one of my favorite units to teach. I have adjusted it to work for 3-5th grade as I have taught all and the students absolutely love it!
Description
***This resource got a BIG UPDATE on May 26, 2021! If you downloaded this resource prior to May 26, 2021, please re-download! You can view every page in this unit by viewing the preview video above or visitng THIS LINK!***

If you are interested in starting fractured fairy tales with your students, LOOK NO FURTHER!!! In this comprehensive unit you will find everything you need to teach students how to write their own versions of fractured fairy tales using the writing process and the structure of classic tales.
The duration of this unit depends on what you want to do with it! It can take as little as 1 week or up to 3 or more! There are so many mini-units you can do with this unit, and the final product can be written or extended with technology by making a photo story. The sky is the limit!
**Before teaching this unit students should already have a general understanding of the writing process (brainstorming, prewriting, drafting, revising, and editing).***
HERE IS WHAT YOU GET WITH THIS UNIT:
-10 lessons. Each lesson includes posters, exemplars, graphic organizers and examples
What is a fairy tale?
What is a fractured fairy tale?
Brainstorming your fractured fairy tale
Prewriting your fractured fairy tale
Mini lesson over using quotation marks correctly
Quotations vs. narration in writing - group activity and practice combining both for good writing
Drafting your fractured fairy tale (includes student checklist)
Revising your fractured fairy tale (includes student checklist)
Editing your fractured fairy tale (includes student checklist)
Publishing your fractured fairy tale (includes student checklist)
-3 pages of detailed lesson plans to help you teach this unit and stay organized
-comprehensive list of 62 titles of fractured fairy tales for various classic versions such as Little Red Riding Hood, The Three Little Pigs, Goldilocks and the Three Bears, Cinderella, The Princess and the Pea, Jack and the Beanstalk, Sleeping Beauty, Rapunzel, and more!
-story map graphic organizer (+exemplars) for both a classic version and a fractured version of a fairy tale
-flow chart graphic organizer (+exemplar) for students to list their sequence of events for their story (to be used for prewriting)
-5 options for publishing stationery
-student exemplar of final product
-photo of bulletin board display
I have used this with my 2nd graders and they had a great time and learned a TON! This unit is perfect for the classroom that uses Writer's Workshop and integrates perfectly with reading and technology! And who doesn't like a good fairy tale?!
_________________________________________________________________
Be sure to also check out my TALL TALE WRITING UNIT!
_________________________________________________________________
Teaching Duration
2 Weeks
Report this resource to TPT
Standards
to see state-specific standards (only available in the US).
Recount stories, including fables and folktales from diverse cultures, and determine their central message, lesson, or moral.
Describe how characters in a story respond to major events and challenges.
Describe the overall structure of a story, including describing how the beginning introduces the story and the ending concludes the action.
Acknowledge differences in the points of view of characters, including by speaking in a different voice for each character when reading dialogue aloud.
Compare and contrast two or more versions of the same story (e.g., Cinderella stories) by different authors or from different cultures.