CONFLICT RESOLUTION TOOL: Help Kids Solve Problems & Find Solutions On Their Own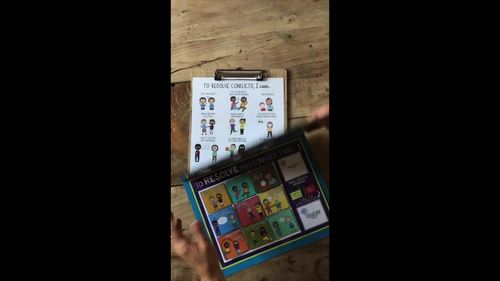 ;
Zip

Google Apps™

Internet Activities
Includes Google Apps™
The Teacher-Author indicated this resource includes assets from Google Workspace (e.g. docs, slides, etc.).
What educators are saying
Amazing resource - highly recommended if you are having problems with constant conflict in your classroom.
Beautiful resource that is incredibly useful in the classroom. I have walked through it with them and watched them use it. I don't think I could love it more.
Also included in
This Conflict Resolution Bundle is jam packed with tools, like community-building lessons, posters, fortune teller craftivities, a choice board intervention, which support students to learn how to resolve conflicts peacefully.What's Included:✔ An interactive Choice Board / Guide to help students res

Price $16.00

Original Price $23.00

Save $7.00

Save tons of planning time and get your students excited about social emotional learning with WholeHearted's Storewide Growing Bundle! Grab over 140 effective and fun counseling and SEL activities and lessons at 50% off. And help your students to build healthy social emotional skills, such as self

Price $279.00

Original Price $548.00

Save $269.00

This social emotional learning mega bundle contains many of WholeHearted School Counseling's SEL games and activities to help children learn, practice, and develop coping skills, self-regulation, social skills, and self-esteem. This SEL Bundle contains some of WholeHearted's top selling resources.

Price $185.00

Original Price $301.25

Save $116.25

Price $55.00

Original Price $101.50

Save $46.50

Custom Bundle for Rebecca.

Price $37.50

Original Price $58.75

Save $21.25

Price $30.87

Original Price $61.73

Save $30.86
Description
Are you tired of constantly mediating conflicts between your students or children? Do you want to empower them to become independent problem solvers? Look no further than the Conflict Resolution Step-By-Step Mediation Guide for Kids!
This lap book is a classroom lifesaver, providing students with the tools they need to resolve conflicts on their own. Not only will students love how hands-on and fun this activity is, it helps them practice all the key conflict resolution skills for problem solving. Plus, it helps students regulate their emotions when triggered by frustrating social interactions.
Teachers can use it as a classroom management tool or for individual interventions with students who need additional support with conflict resolution skills.
How Our Step-By-Step Conflict Resolution Guide Works:
Choose a coping tool to get calm first. The calming strategies include Hand Over Heart, Cocoa Breathing, Count to 20, Roller Coaster Breathing, Rocks & Socks, and Ocean Waves Breathing, all with strong visual supports and directions.
Reflect on the size of the problem.  If it is a big problem, get an adult to help! But if it's something you can handle on your own....
Choose a conflict resolution tool...and give it a try.  
If using an I-Message, kids can use the hands-on template on the back of the lap book to formulate the statement.  
After trying out the conflict resolution strategy, reflect on whether or not it helped.  If not, don't worry - the lap book also includes prompts to suggest trying another skill. 
Ways to Use
The Conflict Resolution Guide for Kids is versatile and can be used in a variety of settings including:
your classroom
school counseling office
peer mediations
at recess for when students are trying to figure out how to resolve a conflict
Calm Down Corner or Break Space
virtual teletherapy counseling sessions
at home to deal with sibling conflicts
WHAT'S INCLUDED
Digital:
✔ Interactive digital Choice Board for Google Classroom or other platform that uses Google Slides™
Printable
✔ Choice between full color, light color and black/white printing options
✔ Title Choices between "Conflict Resolution" and "Peaceful Problem Solving" (which can work well for students unfamiliar with the term "conflict resolution)
✔ Bonus "To Resolve A Conflict, I Can....?" Posters (in 3 printing options and optimized to print in both 8.5"X11" and 18"X24").
✔ Bonus Conflict Resolution Checklists
✔ Bonus "Conflict Resolution Map" printable
What's Needed to Assemble Printable Choice Board:
✓ Hook and Loop Adhesive Dots
✓ Paper Clips, Binder Clips, and/or Clothespins
✓ File Folder
You May Also Enjoy these others :
⭐ Feelings Check-In and Calming Strategies Choice Board
⭐ Our Classroom Calm Corner Toolbox
⭐ Trauma Sensitive Classroom Rules, Values & Expectations: Editable Banner Decor
⭐ Breathing Exercises for Kids: Book & Task Cards for Calm Corner
Report this resource to TPT