CRITICAL THINKING LITERACY SKILLS | SEARCH, FAKE NEWS, FACT & OPINION, RESEARCH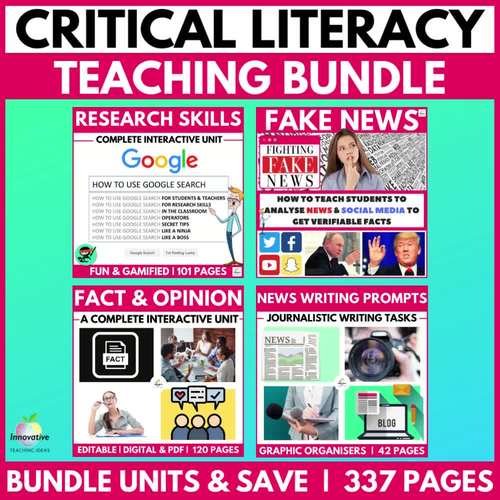 ;
Includes Google Apps™
This bundle contains one or more resources with Google apps (e.g. docs, slides, etc.).
What educators are saying
I really enjoy this bundle, as it helped simplify lessons on digital resources and how to use internet sources.
Products in this Bundle (4)
Description
This collection brings together 4 of our MOST POPULAR and valuable resources at a DISCOUNTED RATE, providing students with CRITICAL THINKING SKILLS in LITERACY from various perspectives.
Be sure to take a look at each in detail to learn about each and READ THE GLOWING REVIEWS for yourself. You will not be disappointed with this HUGE 350-page EDITABLE Bundle.
*********************************************************
☀️⭐How to use GOOGLE SEARCH like a BOSS!! | Research Skills | Digital Citizenship
⭐ HUGE 2021 UPDATE: TpT's most popular GOOGLE SEARCH / RESEARCH SKILLS resource just got better, with 41 PAGES of tasks and resources added.
Teach your students ESSENTIAL SKILLS OF THE INFORMATION ERA to become expert DIGITAL RESEARCHERS.
⭐ How to correctly ask questions to search engines on various devices and platforms
⭐ How to filter and refine your results to find exactly what you want every time.
⭐ Essential Research and critical thinking skills for students
⭐ Plagiarism, Citing and acknowledging other people's work.
⭐ How to use Google Image search safely and effectively.
⭐ How to query, synthesize and record your findings in a logical manner.
⭐ Understand facts and opinions and how they exist on the web.
⭐ Learn how to manage your search data and history effectively
⭐ THE SPANISH VERSION OF THIS PRODUCT CAN BE FOUND HERE
☀️Packed with tasks and activities to keep you, and your students busy for days.☀️
This GAMIFIED resource provides you with the SECRET HANDBOOK of operators, tips, and tricks to the world's most popular website... YOU WILL NEVER USE GOOGLE THE SAME AGAIN.
After presenting this session to thousands of teachers and students, I know most people completely waste their time searching Google, settling for the first thing that pops up instead of what they really need.
This doesn't have to be the case. In just one lesson, you can turn anyone (teacher, student, even a hardcore web addict) into a GOOGLE SEARCH NINJA who can find exactly what they want the first time, every time. These are the secret tips and tricks nobody has ever told you about, all presented in a fun, engaging, completely editable PowerPoint game.
You owe this to your students if you ask them to use the internet for research. IT IS A LIFE SKILL FOR THE 21st CENTURY.
************************************************************************************
☀️⭐Fake News Unit | Critical Thinking | Evaluate Media | Fact Analysis | Google
Teaching students to navigate the news with a CRITICAL & ANALYTICAL MIND is essential for students in 2021. This resource is an all-in-one solution, including lesson plans, resources, and associated activities. ❤️ ABSOLUTELY NO PREP REQUIRED!!!
⭐ Completely remastered for 2021 - With more content, resources, and revisions. Thanks for all your feedback to make this hugely popular product even better. ⭐
This completely editable PowerPoint bundle is aimed at students in years 5 - 10 (ages 10 - 16) and walks you through a structured process of identifying fake news from the perspective of traditional media, social media, different audience groups and fake news producers.
**** If you want the SPANISH version of this product, click here ****
THIS RESOURCE INCLUDES
⭐ A completely editable PowerPoint Presentation enough to fill an engaging lesson with a mix of activities.
⭐ 4 independent one-hour follow-up activities designed to reinforce and further explore the production, impact and implications of fake news.
⭐ A collection of external fake news resources to further expand your understanding of fake news.
Related Products
☀️ How to use GOOGLE SEARCH like a BOSS!! (Research Skills & Digital Citizenship)
☀️ The evolution of a great idea worksheet (Research Tool)
☀️ Digital Graphic Organizers / Digital Notebooks (Google Classroom & PowerPoint)
☀️ Essay Writing Task: Mobile Phones in Schools (Argument / Discussion)
************************************************************************
☀️⭐Fact and Opinion Unit | Perspective & Bias | Digital + Print | Distance Learning
If you are looking for a broad range of engaging tasks to teach students about facts and opinions, you have found it.
This HUGE 120 PAGE resource combines four distinct fact and opinion activities you can undertake as a WHOLE GROUP or as INDEPENDENT READING GROUP TASKS in either DIGITAL or PRINTABLE TASKS.
What you get.
Fact & Opinion Mini-Lesson and overview
Link to Google Slides Version for independent/interactive use
16 Fact and Opinion Discovery Task cards (Digital + Print)
16 Fact & Opinion Statements
5 x Convert Facts to Opinions Writing Tasks
10 x Unique Fact & Opinion Digital Print Graphic Organizer Tools
Fact and Opinion Visual Writing Prompt Tasks
Huge Collection of Printables
Fact & Opinion Classroom Posters
*************************************************************************
☀️⭐Journalistic Writing Prompts | News Reports | Articles | Newspaper Journalism
With over forty images worked into highly engaging graphic organizers, your students will be begging you each week to do some journalistic / Newspaper reporting.
These templates take students through a proven four-step process to create quality writing around fantastic images.
1: Analyze the Photo
2: Identifying your Audience and Purpose
3: Communicating the facts.
4: Planning and creating a structured journalistic report.
This planner has been used in numerous classes with students aged 10 - 16 with excellent results.
Best of all, this version is completely editable, so you can insert your own images and customise any element to your exact needs.
YOU MIGHT ALSO❤️VE THESE ENGLISH RESOURCES
❤️ Year-Long Visual Writing Prompts Collection
❤️ News and Media Literacy Bundle
❤️ 125 Guided Reading Activities for ANY BOOK
❤️ 101 Digital Graphic Organizers
⭐LET'S CONNECT
Innovative Teaching Ideas on YouTube
Innovative Teaching Ideas on Facebook
TERMS
Copyright © Innovative Teaching Ideas. All rights reserved by the author. This product is to be used by the original downloader only. Copying for more than one teacher, classroom, department, school, or school system is prohibited. This product may not be distributed or displayed digitally for public view. Failure to comply is a copyright infringement and a violation of the Digital Millennium Copyright Act (DMCA). Clipart and elements found in this PDF are copyrighted and cannot be extracted and used outside this file without permission or license. Intended for classroom and personal use ONLY. See the product file for clip art and font credits.
CUSTOMER TIPS:
How to get TPT credit to use on future purchases:
• Please go to your My Purchases page (you may need to
login). Beside each purchase, you'll see a Provide Feedback button. Simply click it, and you will be taken to a page where you can give a quick rating and leave a short comment on the product. Each time you give feedback, TPT gives you feedback credits to lower the cost of your future purchases. I value your feedback greatly as it helps me determine which products are most valuable for your classroom to create more for you. ☺
Answer Key
Included with rubric
Teaching Duration
Lifelong tool
Report this resource to TPT
Standards
to see state-specific standards (only available in the US).
Demonstrate command of the conventions of standard English grammar and usage when writing or speaking.
Use relative pronouns (who, whose, whom, which, that) and relative adverbs (where, when, why).
Order adjectives within sentences according to conventional patterns (e.g., a small red bag rather than a red small bag).
Demonstrate command of the conventions of standard English capitalization, punctuation, and spelling when writing.
Use commas and quotation marks to mark direct speech and quotations from a text.