CVC Short Vowel Sounds Activity: Vowel Houses!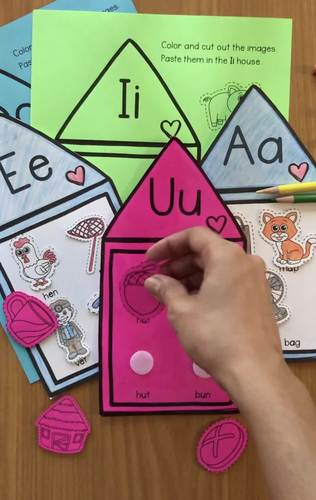 ;
What educators are saying
I purchased this resource for my student teacher to use with our striving readers, and it was a huge hit in their group.
We put this in our Literacy Notebooks as an interactive piece. Great activity that required little to no prep from me!
Description
Short Vowel Sounds Activity: Vowel Houses!
Practice recognizing short vowel sounds with early readers by using this fun, hands-on CVC short vowel sounds activity!
This nine-page product includes:
⭐5 line art vowel house activity pages with vowel sound pictures
⭐And a set of instructions!
Students can practice matching up the correct vowel sound pictures in the right vowel "house".
Students can color in the pages to decorate their "houses" and CVC word pictures. Or print them on AstroBright paper for a pop of color!
Laminate these and use them with hook and loop sticky dots to make a reusable activity for literacy centers or morning tubs!
✧✧✧✧✧✧✧✧✧✧✧✧✧✧✧✧✧✧✧✧✧✧✧✧✧✧✧✧✧✧✧✧✧✧✧✧✧
Love these? Try some of my other ELA learning resources!
✨Apple Tree Life Cycle Sentence Writing Activity
✨Back to School Creative Writing Prompts
✨Delicious Donuts ELA Activity Set
✧✧✧✧✧✧✧✧✧✧✧✧✧✧✧✧✧✧✧✧✧✧✧✧✧✧✧✧✧✧✧✧✧✧✧✧✧
Claim Your TPT Credits!
Go to your My Purchases page. Click Provide Feedback to leave me a quick rating! Every time you leave feedback, you get a credit toward future TPT purchases! Woohoo!
Get on the List!
Click the green Follow Me link next to my store logo to be the first to learn about new products I share!
Report this resource to TPT
Standards
to see state-specific standards (only available in the US).
Isolate and pronounce the initial, medial vowel, and final sounds (phonemes) in three-phoneme (consonant-vowel-consonant, or CVC) words. (This does not include CVCs ending with /l/, /r/, or /x/.)
Isolate and pronounce initial, medial vowel, and final sounds (phonemes) in spoken single-syllable words.