CVC Words Phoneme Segmentation Activities Google Slides Seesaw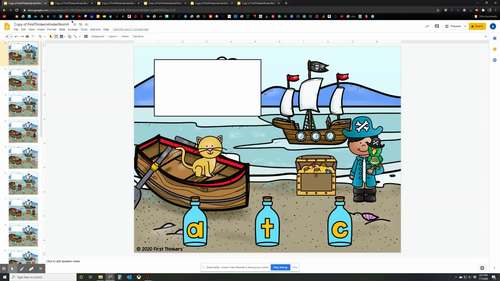 ;
Zip

Google Apps™

Internet Activities
Includes Google Apps™
This bundle contains one or more resources with Google apps (e.g. docs, slides, etc.).
What educators are saying
My students had a lot of fun with this CVC building game. I cannot wait to continue using it throughout the school year.
Products in this Bundle (7)
showing 1-5 of 7 products
Bonus
Easy Access Google Slides and Seesaw Links for All Products
Description
Engaging phonemic awareness practice would be perfect for your ELA centers or independent work through Google Classroom or Seesaw. This lesson has MOVABLE LETTERS that students interact with! Drag and drop the letters into the appropriate spots!
Want to add self-correcting interactive games for your phonics skills? Add Explorer Phonics to your cart!
Google Slides preloaded links
Seesaw preloaded links
PowerPoint files
These resources eliminate the need for paperwork and prep by having students practice phonics using Google Classroom or Seesaw on Chromebooks, PCs, or Macs or on PowerPoint for iPads. 
They also provide students a fantastic way to learn vocabulary. Students will be exposed to many words with picture supports throughout the lessons. Early readers and ELLs could greatly benefit from this. Build vocabulary while practicing phonics skills!
Assign students the provided Google Slide, Seesaw, or PowerPoint (all three included) through Google Classroom, Seesaw, AirDrop for iOS, etc
There are 20 total slides with 20 words.
Includes audio playback for all words and letter sounds!
Students drag and drop letters to spell out the picture.
Google Classroom and Seesaw saves student work so you can review it when they turn it in to see if they understood the phonics skill.
Answer Keys are provided for student correction in form of a PDF of 20 pages.
Instructions on how to access the file and make a copy for your Google Drive.
How to setup Google Classroom and push the file to your students as an assignment using Chromebooks, PCs, or Macs.
Video tutorials on how to send assignment through Google Classroom and Seesaw to your students
Instructions on how to use the PowerPoint version on iPads.
No prep at all. Select the file from your Google Drive. Assign it as an assignment to your students. Done.
May be used as an Interactive SMARTBoard Lesson for whole or small groups.
Google Classroom allows you to view your students work live from your computer.
Students develop digital computer skills necessary for 21st century jobs.
Student motivation and engagement is high.
Students use clicking, drag and drop, transferring information from their computer to their paper, and navigating digitally that will help them with online assessments.
Students can log in at home and work on the assignments there.
*************************************************************************************************************
Materials You May Be Interested In
❤️ Full Year Holiday Math and Phonics Google Slides Seesaw
❤️ Self-Correcting Math Google Slide and PowerPoint Games
❤️ Self-Correcting Phonics Google Slide and PowerPoint Games
❤️ Full Year Math Standard Based Games for Google Slide, Seesaw, and PowerPoint
❤️ Full Year Phonics Scope and Sequence Games for Google Slide, Seesaw, and PowerPoint
❤️ Full Year Addition Within 20 Color By Name for All Holidays and Seasons
*************************************************************************************************************
Report this resource to TPT
Standards
to see state-specific standards (only available in the US).
Know and apply grade-level phonics and word analysis skills in decoding words.
Demonstrate basic knowledge of one-to-one letter-sound correspondences by producing the primary sound or many of the most frequent sounds for each consonant.
Know and apply grade-level phonics and word analysis skills in decoding words.
Decode regularly spelled one-syllable words.