Calm Down Tools: Social Narrative Stories & Visual Supports for Self-Regulation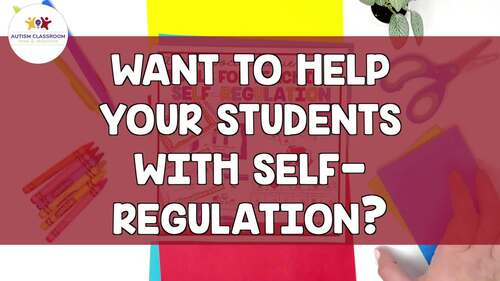 ;
Easel Activity Included
This resource includes a ready-to-use interactive activity students can complete on any device. 
Easel by TPT is free to use!
Learn more
.
What educators are saying
I love the visuals that are included with this product. I also love that I am able to implement this with several different grade levels.
Love that there are options for printing and using with my students that spend time in a gen ed setting. I appreciate that the visuals are discreet and easy to carry.
Description
If you have ever worked with students who have difficulty self-regulating, you probably wish you could just tell them to calm down. This kit is designed to allow you to do that by teaching them the skills of why being calm is important AND HOW to achieve it.
These 4 social narratives and visual supports are designed specifically to support your behavior management strategies and to teach students to manage their own behavior. Specifically, the tools will teach using a calm down routine to be ready for class, calming down when excited, and requesting a break.
**This product is also included in a bundle offered at a discounted price: The Starter Kit for Successful Inclusion
This kit is appropriate for all ages.  
Works great for students with autism
Also appropriate for students with behavioral and emotional challenges 
Most effective for students who need to practice self-regulation or learn to remove themselves from a situation appropriately (e.g., escape-function of the behavior)
Students needing to learn relaxation strategies
The 4 social narratives are useful for helping individuals to understand others' perspective, share information about new or problematic situations, and provide coping strategies for maintaining appropriate behavior and social responses.
Each story is in a format with 1 idea and picture on each page and an identical story in which the whole story is contained on 1 page with a picture for each idea next to the line. Which one you use at what time will depend on the needs and developmental level of the student as well as the situation. 
Visual supports matching the focus of the narratives
Each in 1-page and 1 sentence per page formats
I Can Ask for a Break
I Can Stay in Control of Myself
Staying Calm Before I Go to Class
Staying Calm When I'm Excited
Cueing a relaxation deep breathing sequence
A calm-down strategy for before entering class
Pictures for choice boards for activities during break time (including sensory, exercise activities, and reinforcing activities)
Multiple copies of break cards
Teaching Protocol for Teaching Requesting a BreakTips for Using the Tools
---
⭐️⭐️⭐️⭐️⭐️ "This has proven to be a very useful resource in our room. The children have responded well to the social stories and the calm down sequencing visuals gives our children the ability and independence to self-regulate." --Amy M.
⭐️⭐️⭐️⭐️⭐️ "This is a great Resource for teaching self regulation. The visuals were great , and students responded well. Will recommend to any Resource Teacher." --Nan H.
⭐️⭐️⭐️⭐️⭐️ "The students really were engaged with the lesson because they all acknowledged something that they struggle with in one or all of the stories." Sandra M. (10th, 11th, & 12th grade)
Some images for this product were provided by
DynaVox Mayer-Johnson
2100 Wharton Street
Suite 400
Pittsburgh, PA 15203

Phone: 1 (800) 588-4548
Fax: 1 (866) 585-6260

Email: mayer-johnson.usa@mayer-johnson.com
Web site: www.mayer-johnson.com
This product by Christine Reeve is copyrighted for single classroom or caseload use only. This product may not be resold and can be copied for personal use within a classroom only. If extra copies are needed throughout a school district, please email drchrisreeve@gmail.com for prices. © Christine Reeve
Teaching Duration
Lifelong tool
Report this resource to TPT