Calming Strategies for Regulation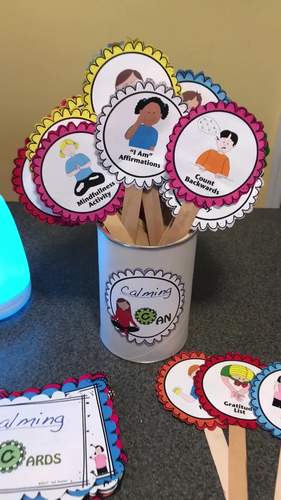 ;
What educators are saying
These are excellent techniques to use in a K classroom. They are easy to learn and kids love doing them.
We use this resource all of the time in our high school level Spec Ed classroom. The images aren't kiddy or immature, I really appreciate how they are appropriate for the older students.
Description
Calming Strategies for Self Regulation
Coping Strategies for the classroom, individual learners, or small groups.
Help your students to help themselves get in a zone for learning. From anxiety to trauma and everything in between, this product has the best techniques to help regulate emotions. Having a toolbox of sensory strategies to address over-responsiveness can be invaluable in any classroom.
With 24 strategies, many research-based, students learn an abundance of skills to prevent challenging behavior moments in the future. These are essential life skills for success at school, home, and social situations.
Happy buyers have said:
"This is great for quick, go to strategies in the heat of the moment. Has worked great for my kiddos"
"I LOVED this resource! I use it at my school and with clients in a private clinical setting. Thank you so much!"
Contents:
page 2 about calming techniques
page 3 content and directions
page 4 can template (choice of 3)
page 5-10 picture strategies (24 strategies)
page 11-23 strategy explanations (24 cards with full detail of strategy)
page 24 calming toolbox (for creating personal toolboxes)
page 25 calming pictures (images for cutting and pasting into toolbox)
page 26 credits/recommendations
***************************************************************************** You may also be interested in these Problem Solving Products
*******************************************************************
Report this resource to TPT