Camping Theme Unit Learning Centers and Collection of Learning Activities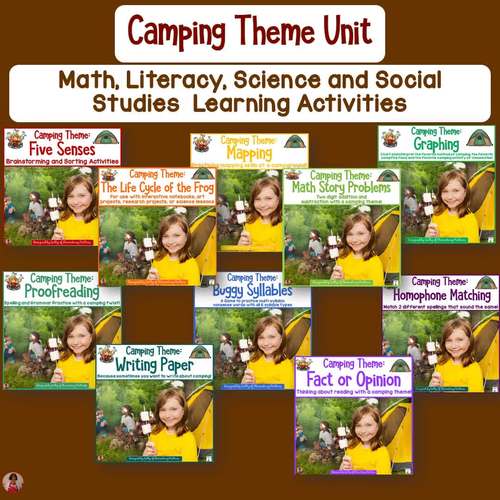 ;
What educators are saying
I used this for my summer school "Happy Campers" course and found the activities to be a great review of skills they learned in 2nd grade.
Products in this Bundle (13)
showing 1-5 of 13 products
Description
Your students will have plenty of fun learning and practicing with these 10 different camping-themed activities! These can be used individually, with partners, or in small groups.
These activities are perfect for end-of-the-year review, summer school, or back-to-school review of basic skills and teaching procedures.
There are 10 activities in all, and practice important skills in reading, math, science, and social studies. Plus, the children absolutely LOVE the camping theme!
Camping Theme: Five Senses
Camping Theme: Frog Life Cycle
Camping Theme: Mapping Task Cards
Camping Theme: Math Story Problems
Camping Theme: Graphing
Camping Theme: Proofreading
Camping Theme: Writing Paper
Camping Theme: Buggy Syllables
Camping Theme: Fact or Opinion
Camping Theme: Homographs
Be sure to download the individual preview files for a better understanding of what is contained in this resource. Thanks!
Go to your My Purchases page. Beside each purchase, you'll see a Leave a Review button. Simply click it and you will be taken to a page where you can give a quick rating and leave a short comment on the product.
Each time you give feedback, TPT gives you feedback credits that you use to lower the cost of your future purchases.
Feedback is greatly appreciated, and helps sellers create better resources!
*************************************************************************************************************
Be sure to click on the green ★ to follow me for updates and announcements of new resources!
*************************************************************************************************************
Designed by Sally of Elementary Matters. elementarymatters@gmail.com
♦ If you like what you see here, see my social media HERE.
Answer Key
Does not apply
Teaching Duration
2 Weeks
Report this resource to TPT
Standards
to see state-specific standards (only available in the US).
Organize, represent, and interpret data with up to three categories; ask and answer questions about the total number of data points, how many in each category, and how many more or less are in one category than in another.
Generate measurement data by measuring lengths of several objects to the nearest whole unit, or by making repeated measurements of the same object. Show the measurements by making a line plot, where the horizontal scale is marked off in whole-number units.
Draw a picture graph and a bar graph (with single-unit scale) to represent a data set with up to four categories. Solve simple put-together, take-apart, and compare problems using information presented in a bar graph.
Draw a scaled picture graph and a scaled bar graph to represent a data set with several categories. Solve one- and two-step "how many more" and "how many less" problems using information presented in scaled bar graphs. For example, draw a bar graph in which each square in the bar graph might represent 5 pets.
Use addition and subtraction within 20 to solve word problems involving situations of adding to, taking from, putting together, taking apart, and comparing, with unknowns in all positions, e.g., by using objects, drawings, and equations with a symbol for the unknown number to represent the problem.